Volunteer in
Madagascar
Volunteer in Madagascar with Abroad Escape!  Embark on an extraordinary journey with Abroad Escape and uncover the untamed beauty of Madagascar through the transformative power of volunteering. 
Our Madagascar projects:
Culture week
Teaching Project
Mangrove Forest Conservation
Lemur Experience
Kindergarten Teaching
Construction & Renovation 
Create
Your Own Unique Schedule

In Madagascar!
With the freedom to choose your own unique schedule as you want week by week. With us, you have the power to create your own tailor-made volunteer program that aligns with your passions and interests. You have the flexibility to start any Monday and stay for anywhere between one to twelve weeks.
If you are a passionate volunteer with a heart for nurturing young minds and an eagerness to transform lives in Madagascar, then these programs are tailor-made for you. With a focus on early childhood education, these opportunities provide an ideal platform for you to channel your enthusiasm and create a positive impact on the lives of the little ones in this beautiful country.
You can also join as a family or as a group. Contact us for more details.
Location: Nosy Be, Madagascar
Start Dates: Start every Monday
Duration: 1 week – 12 weeks
We are
Loved ♥️

by our Trusted Customers

I volunteered with Abroad Escape, which was definitely the best trip and the best experience of my life!

The program was a great experience for me. The kids I taught were very smart and happy. They were very willing to learn which was amazing.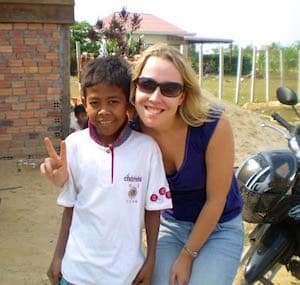 I had an amazing time in volunteering. I was happy with the whole experience and would love to go back in the future!
Your
Arrival
Get ready for a warm welcome to Madagascar! Your adventure begins the moment you arrive, with our airport pick-up on Sunday at Fascene Airport. To ensure a smooth transition, we'll provide you with all the necessary arrival and contact details when you book your program.The local team will be waiting for you, ready to transfer you to your accommodation where you'll meet fellow volunteers from around the world.
Your
Orientation
On Monday, our experienced coordinator will lead an exciting orientation session. This is your chance to get comfortable with your surroundings and dive into the local culture, while also receiving important health and safety advice.
During the orientation, you'll receive a comprehensive introduction to your program, accommodations, and the exciting projects that await. Plus, you'll learn all the do's and don'ts of local customs, giving you a head start on immersing yourself in the rich and vibrant culture of Madagascar.
Your
 Accommodation
Your accommodation is included in your package from Sunday night until Saturday morning of your last week, so you can rest assured that you'll have a comfortable place to call home throughout your journey.
The volunteer house is located in the suburbs of Hell-Ville in Nosy Be. You'll be staying in shared rooms with other volunteers, giving you the perfect opportunity to make lifelong friends from around the globe. You'll be accommodated in single-gender dorm-style rooms, ensuring maximum comfort and privacy.
You'll enjoy three delicious meals per day from Monday to Friday, and two meals per day on weekends. Plus, if you're a vegetarian, no problem! We can vegetarian meals for you.
Madagascar
Our projects in Madagascar. You can choose which project you day week by week and create your own unique schedule in Madagascar!
Cultural Experience
in Madagascar
Immerse yourself in the vibrant tapestry of this enchanting land, as you embark on a remarkable journey to uncover the customs, sights, and flavors that make this country truly extraordinary. Step into the heart of the local culture, where the Malagasylanguage will unveil itself to you like a secret treasure.
Prepare to be captivated by the charm of the city as you venture into its kaleidoscope of colors at the lively markets. Explore the bustling streets, guided by your senses as you indulge in exotic and cosmopolitan cuisines that will tantalize your taste buds. Wander along the foothills of Mont Passot, ascending to its summit to witness a breathtaking sunset that paints the sky with hues of pure magic. And let the allure of Hell-Ville beckon you with its intriguing mysteries, waiting to be unraveled.
Welcome to Nosy Be Culture Week, where an authentic experience of the Malagasylifestyle awaits you. Throughout the week, prepare to embark on unforgettable journeys to cultural and natural wonders scattered across Nosy Be's landscape. The adventure begins on Monday, as you acquaint yourself with our team in Madagascar, immersing yourself in our Code of Conduct, House Rules, Liability Waivers, and Evaluation Forms. Discover the essence of Madagascar and Nosy Be, absorbing the richness of their cultures. And as the sun reaches its zenith, you'll embark on a trek up Mont Passot, savoring the breathtaking views that unfold before you at its pinnacle.
On Tuesday, set out on a captivating expedition, venturing from AMBATOZAVAVY to MARODOKA, traversing the rural landscapes of Nosy Be. Along the way, indulge in a delightful picnic lunch, accompanied by the lively rhythms of a local dance. Afterwards, immerse yourself in a pastry class, where the secrets of Malagasyluscious treats will be unveiled. And as dusk descends, join the Malagasylanguage lessons, empowering you to connect with the locals on a deeper level.
Wednesday ushers in new discoveries as you find yourself in the presence of a majestic banyan tree. Here, the people of Nosy Be and beyond make heartfelt sacrifices to their ancestors, seeking blessings and wrapping the tree in vibrant red and white linen when their prayers are answered. In the afternoon, venture through the streets of Hell-Ville, exploring its bustling marketplace and unraveling the stories woven within the ancient quarters where the King resides. Let the colonial architecture of the houses at Court de Hell transport you to a bygone era.
Thursday dawns with a stroke of artistic inspiration, as a local traditional painter guides you through a captivating painting class. Unleash your creativity and let the colors flow onto the canvas. After a fulfilling lunch, delve deeper into the Malagasylanguage through afternoon lessons, honing your linguistic skills to enhance your interactions with the locals.
As Friday arrives, embark on an extraordinary adventure to Ampasipohy, journeying by car and pirogue. Arriving at your destination, venture into the LOKOBE Community Forest, where lemurs, birds, and reptiles thrive amidst the lush lowland rainforest. Allow nature's melodies to serenade your senses as you immerse yourself in this remarkable ecosystem. After a satisfying lunch, you have the opportunity to accompany a local fisherman on a fishing excursion, witnessing their ancient techniques firsthand. Alternatively, venture into the fields, where vanilla, pepper, or pineapple cultivation beckons you to partake in the local agricultural practices.
* This schedule can be changed and/or amended depending on weather conditions, local conditions and unforeseen circumstances.
Kindergarten
 in Madagascar
Imagine the joy of working in a local kindergarten nestled amidst the captivating beauty of Nosy Be, where you'll embark on a fulfilling journey of teaching and guiding children in an informal and enjoyable manner. As an English teacher, you'll have the incredible opportunity to not only impart language and communication skills but also nurture their overall development.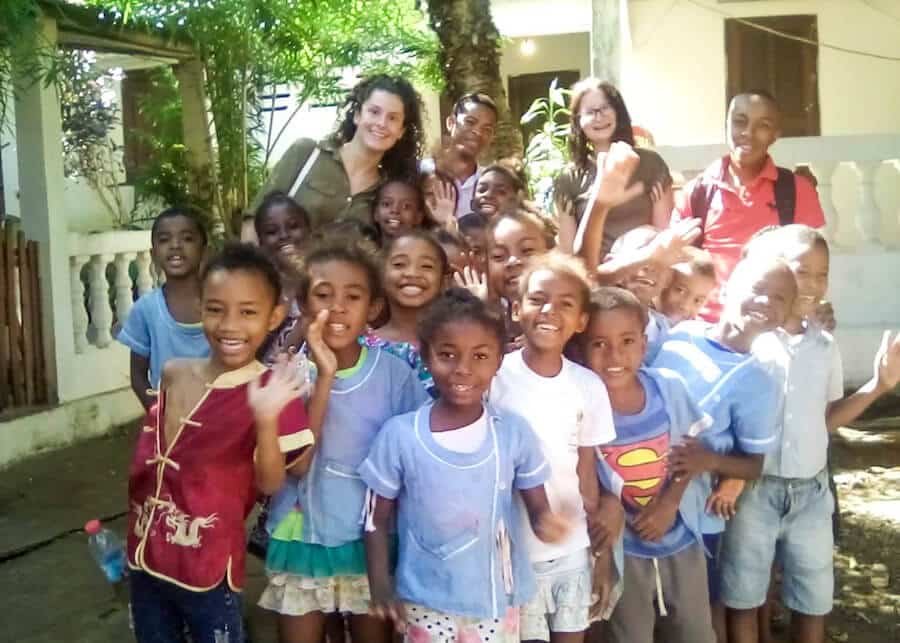 Kindergarten teaching goes beyond textbooks and classrooms. It's a chance to inspire young minds, fostering their creativity and helping them develop essential life skills. As you immerse yourself in teaching these bright-eyed children, you'll witness the warm embrace of the local community, gradually becoming an integral part of their lives.
The children you'll meet at the kindergarten are at the beginning of their educational journey, and introducing them to English at such a tender age will shape their future in invaluable ways. While the teaching style remains informal, with children yearning for playtime as much as learning, your mere presence will ignite their excitement for attending school. By teaching them simple English phrases and greetings, you'll unknowingly sow the seeds of a lifelong love for learning. Their eyes will sparkle with anticipation as they eagerly await your arrival, ready to welcome you with genuine warmth. Being one of the few foreigners they've encountered up close, your presence will be cherished and celebrated.
From Monday to Friday, your mornings will be filled with the delightful company of pupils aged 2 to 3 or 4 years old, as you guide them through three hours of engaging lessons. Afterward, you'll return to our Center, where a delicious lunch awaits you, rejuvenating you for the afternoon. At 14:30, you'll head to NAZAREANA School, where you'll interact with and teach children aged 4 to 7 for two hours. Wednesdays hold an additional opportunity to engage with the teachers, fostering collaboration and exchanging ideas for approximately an hour.
* This schedule is subject to change or adjustment due to weather conditions, local circumstances, and unforeseen events. 
Teaching
 in Madagascar
Step into the role of an English teacher, empowering children from diverse age groups in rural villages across Nosy Be with the gift of conversational English. Your presence at a state-managed school will not only involve teaching but also extending support to the dedicated teaching staff. Together, you'll create an environment that fosters growth, encourages extracurricular activities, and ignites the students' potential to expand their horizons.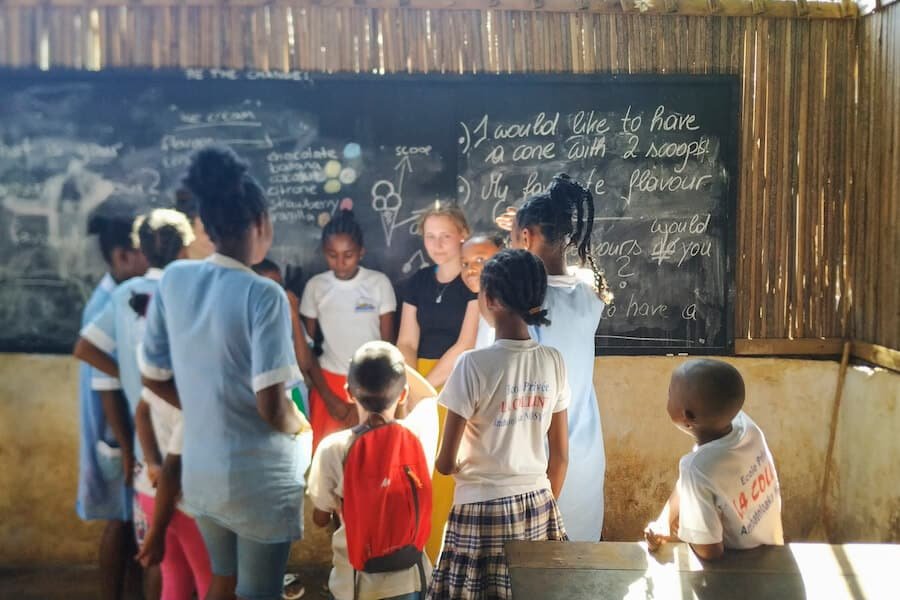 In many parts of Madagascar, travel remains a distant dream for most, and in villages like Tsararano Ambony, opportunities for contact with the outside world are scarce. As a foreign teacher, you become the bridge that connects these students to someone from a different background and culture, nurturing relationships that broaden their perspectives. Simultaneously, you'll have the chance to share your expertise and introduce the local teachers to new, innovative teaching methods and techniques. Even without a formal teaching background, your assistance and collaboration will greatly contribute to this project.
As you embark on this educational journey, you'll encounter children of varying ages, each with unique learning capacities. Feel free to leverage your own teaching materials and methods, tailoring your approach to meet the needs of each child. Whether you refer to a coursebook as a reference or engage them in conversations to enhance spoken English, the possibilities are endless. During your time here, you'll have the privilege of teaching a range of subjects, from mathematics, history, science, and geography to computer technologies, music, arts and crafts, educational games, personal development, environmental awareness, general health and safety, and more. While higher education in Madagascar is primarily conducted in French and Malagasy, it's crucial for children to acquire English language skills as well, considering Nosy Be's status as one of the most renowned tourist destinations in the country.
From Monday to Friday, your days will be filled with a diverse array of responsibilities. Primarily, you'll focus on teaching English, but you'll also have the opportunity to delve into drama, games, music, art, and even foreign languages. Encouraging academic excellence while nurturing the holistic development of each child will be at the core of your mission. You'll actively assist teachers and other staff members, working together as a cohesive team. Additionally, you'll have the chance to create teaching plans that align with the unique needs and aspirations of the students.
* This schedule is subject to change or adjustment due to weather conditions, local circumstances, and unforeseen events. 
Construction & Renovation
 in Madagascar
Immerse yourself in the vibrant landscapes of this enchanting island nation, where our construction and renovation project awaits your involvement.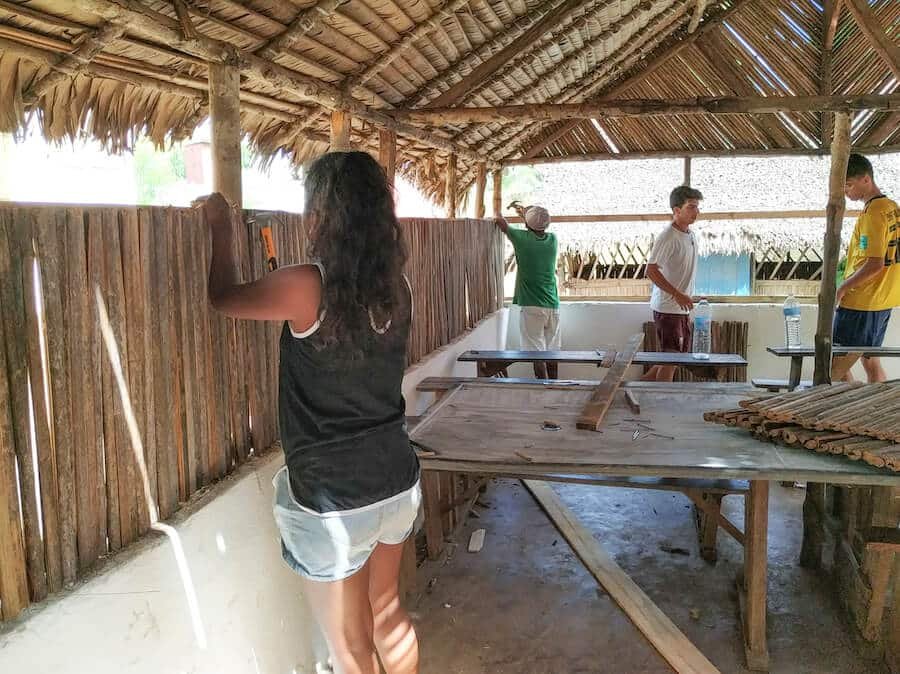 Join us in exploring the hidden beauty of this country while working alongside the local community to transform their schools into aesthetically pleasing institutions that enhance the quality of education for the children. Unleash your creative talents as we utilize local resources to create a captivating landscape that truly reflects the spirit of the community.
The Construction and Renovation project in Nosy Be is a heartfelt initiative that supports small communities in and around the island. Our mission is to build and renovate school buildings that serve as the foundation for children's growth and development, nurturing their potential. Collaborating with local families and fellow participants, you'll be guided by a dedicated coordinator who will provide essential training and support throughout your journey.
Prepare yourself for an immersive experience that involves physical and manual labor. From laying bricks and carpentry to painting, waterproofing, tiling, landscaping, and gardening, your efforts will encompass improving the community's hygiene and sanitation facilities. The project is an embodiment of teamwork, resilience, and a shared vision for a brighter future.
Monday to Friday will be filled with purposeful activities. You'll start with a meeting with the coordinator, discussing the tasks and objectives for your stay. As we focus on light construction work, your assistance will be invaluable in painting school buildings, crafting tables and chairs, constructing and renovating playgrounds, creating pathways, building toilets, repairing school walls, and even constructing new classrooms. Depending on local needs, construction and renovation work may extend to other areas within the community.
* This schedule is subject to change or adjustment due to weather conditions, local circumstances, and unforeseen events. 
Mangrove Forest Conservation
 in Madagascar
Embark on an exhilarating journey and become an active participant in the conservation efforts dedicated to the preservation of Madagascar's unique and endemic flora and fauna species.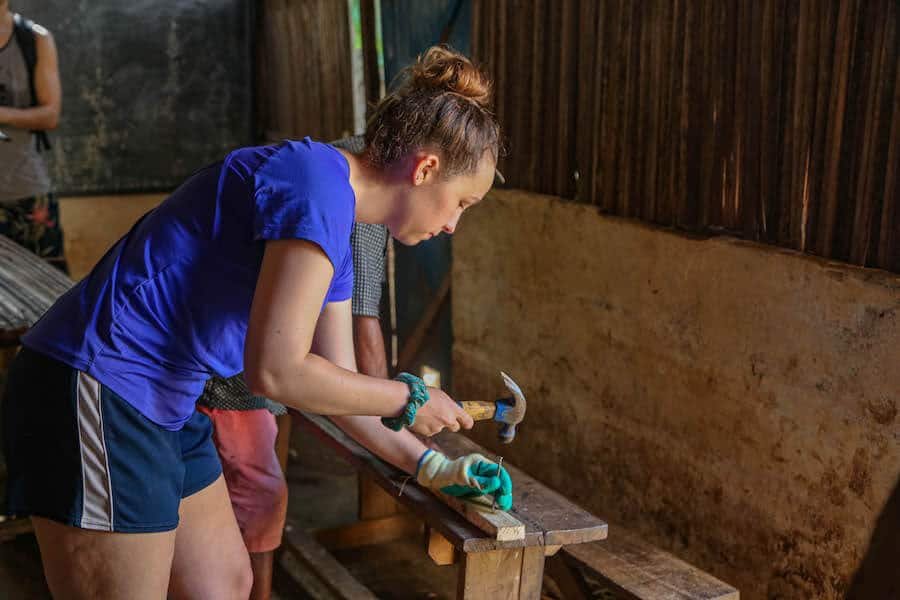 Immerse yourself in the breathtaking beauty of this incredible island as you engage in a range of conservation activities, allowing you to express your deep concern for the environment—both natural and cultural. Our program offers you an extraordinary opportunity to contribute your own initiative, research, time, and effort towards safeguarding the island's precious ecosystem, with a particular focus on the magnificent mangrove forest.
At ESPACE ZENY, a remarkable cultural and ecotourism site located just a short drive from HELL-VILLE, you will find yourself amidst a captivating mangrove forest. This sanctuary is dedicated to training youth from rural communities in Nosy Be and the mainland in the art of professional organic farming. As a conservation participant, your journey will begin by delving into the wonders of the Nosy Be mangrove forest—its abundant biodiversity, diverse uses, and pressing threats. Drawing upon your passion for environmental education, you will have the opportunity to develop an engaging teaching manual for children, imparting valuable knowledge about the importance of mangroves and their sustainability to local communities and schools.
In collaboration with the local team, your efforts will extend to nurturing mangrove forest seedbeds. These young plants will be utilized to restore and create a living classroom, serving as a showcase site for the local children. Through your leadership, a new generation will be empowered to appreciate and protect this vital ecosystem.
From Monday to Friday, your days will be filled with meaningful tasks that support the ESPACE ZENY's mission. Following a warm welcome and an introduction to the site's history and traditions, you will immerse yourself in various activities:
– Contributing to the mangrove regeneration program.
– Establishing seedbeds for future growth.
– Creating captivating sketches highlighting the importance of mangrove forest conservation.
– Leading engaging environmental education sessions tailored to the surrounding children.
– Collaborating on sustainable mangrove exploitation programs.
Throughout your journey, the knowledgeable local staff will be by your side, providing support and guidance whenever needed. Daily activities will be planned in collaboration with the on-site coordinator, ensuring that your efforts align with the project's requirements and the community's needs.
* This schedule is subject to change or adjustment due to weather conditions, local circumstances, and unforeseen events. 
Lemur Experience
 in Madagascar
Join us in this thrilling program and become an active participant in the conservation of Madagascar's extraordinary endemic animal species!
This enchanting island provides a remarkable opportunity for you to immerse yourself in the preservation of its precious fauna. Through your involvement in various conservation activities, you will contribute to the protection of this gentle and captivating creature.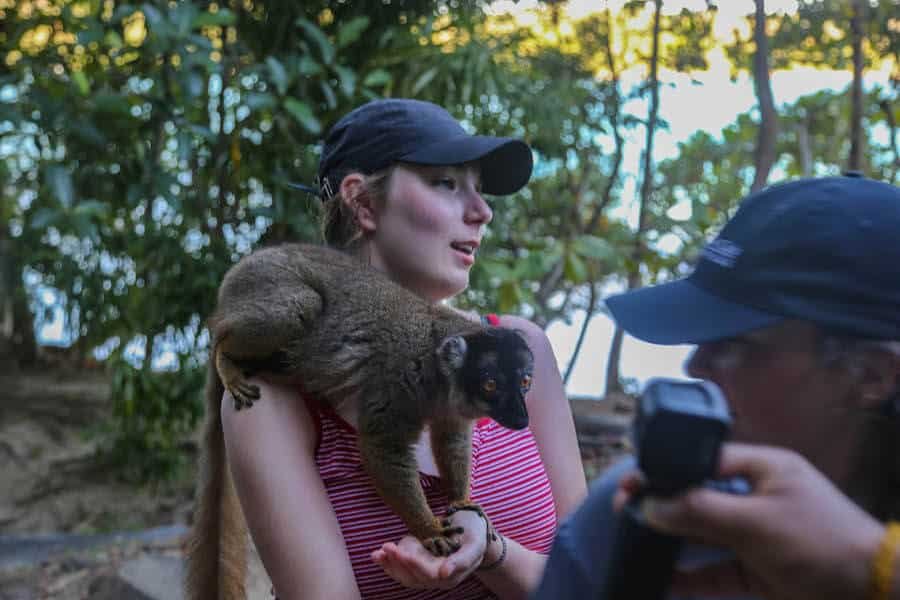 Our program is designed to engage participants in vital work that maintains and safeguards Madagascar's rich wildlife heritage, focusing on a private lemur species rehabilitation center. As a conservation participant, you will gain comprehensive knowledge about the island's flagship species, particularly those endemic to this region of Madagascar. Additionally, you'll have the chance to encounter other unique fauna, such as the Madagascar fish-eagle and the Ploughshare tortoise.
Your responsibilities will include assisting in the preparation of the lemurs' diet, which involves chopping vegetables and fruits in the morning. You'll also support the local staff and veterinarian during monthly health checks. Moreover, you'll have the opportunity to contribute to the care of other captivating species, including tortoises, chameleons, and other residents of the park.
During the afternoons, you'll be engaged in mangrove conservation activities, collaborating with our coordinators. Together, we will plant mangrove saplings, nurture them at the plant nursery, and clean the mangrove area from pollutants, ensuring the preservation of this critical ecosystem.
From Monday to Friday, your daily routine will be as follows:
On Monday, after breakfast, we will visit Lemuria Land Park, where you will have the chance to meet the dedicated local staff.
Throughout the week, we will depart at 7:00 am to the Lemur park, commencing work at approximately 8:30 am. Your tasks will include cleaning the enclosures, with a short 15-minute break, followed by collecting fruits, vegetables, and green leaves for the lemurs.
You will actively participate in preparing the lemurs' meals and feeding them, concluding your daily park activities at noon. After returning to the center for lunch, our coordinator will guide you to the mangrove conservation area, where you will engage in daily activities at the plant nursery and in the mangrove forest.
To ensure seamless coordination, our on-site coordinator will plan the daily activities based on project requirements and the evolving needs of the program.
* This schedule is subject to change or adjustment due to weather conditions, local circumstances, and unforeseen events. 
Program
Prices
1 Week: 595 Euro
2 Weeks: 755 Euro
3 Weeks: 975 Euro
4 Weeks: 1195 Euro
+1 Week: 255 Euro
* Culture Week, Mangrove & Construction has an extra fee of 45 Euro per week
Lemur Program
Prices
1 Week: 775 Euro
2 Weeks: 1135 Euro
3 Weeks: 1545 Euro
4 Weeks: 1955 Euro
+1 Week: 455 Euro
With us there are NO registration or administration fees!
Plus you can easily combine the different projects.
What's included:
Volunteer program
Accommodation
Meals
24/7 in-country support
In-country program orientation
Pre-departure support
Airport pick-up
Not included:
visa, flight, travel insurance, vaccinations, criminal background check, return trip to the airport, 5% international banking fee
Requirements to join:
– Participants need to be minimum 18 years old
– Participants under 16 need to join with a parent/guardian
– Participants aged 16 to 18 need to have parental consent
– Older participants or over 65 years are required to have a medical clearance
– Participants are required to provide a criminal background check (if unable to obtain a criminal background check, you can provide two character reference letters instead)
– Have completed the recommended vaccines for Madagascar as per medical advice of your hospital
– Yellow fever vaccination is mandatory for all participants arriving in Madagascar
– Participants are required to have their own travel insurance
– You need to be able to speak and understand at least basic English
Testimonial
Sarah Snook
A testimonial from Sarah Snook the famous Hollywood actress who joined our volunteer program.