Volunteer in
Tanzania
Volunteer in Tanzania with Abroad Escape! Embark on an extraordinary journey with Abroad Escape and seize the chance to make a difference in Tanzania. Immerse yourself in the adventure of a lifetime by embracing the role of a volunteer in this awe-inspiring country. Our meticulously designed volunteer programs in Tanzania empower you to shape your own destiny, as you contribute to immensely fulfilling and impactful projects that leave an indelible mark on the lives of those you touch.
Create
Your Own Unique Schedule

In Tanzania!
With the freedom to choose your own unique schedule as you want week by week. With us, you have the power to create your own tailor-made volunteer program that aligns with your passions and interests. You have the flexibility to start any Monday and stay for anywhere between one to twelve weeks.
If you are a passionate volunteer with a heart for nurturing young minds and an eagerness to transform lives in Tanzania, then these programs are tailor-made for you. With a focus on early childhood education, these opportunities provide an ideal platform for you to channel your enthusiasm and create a positive impact on the lives of the little ones in this beautiful country.
Location: Monduli, Tanzania
Start Dates: Start every Monday
Duration: 1 week – 12 weeks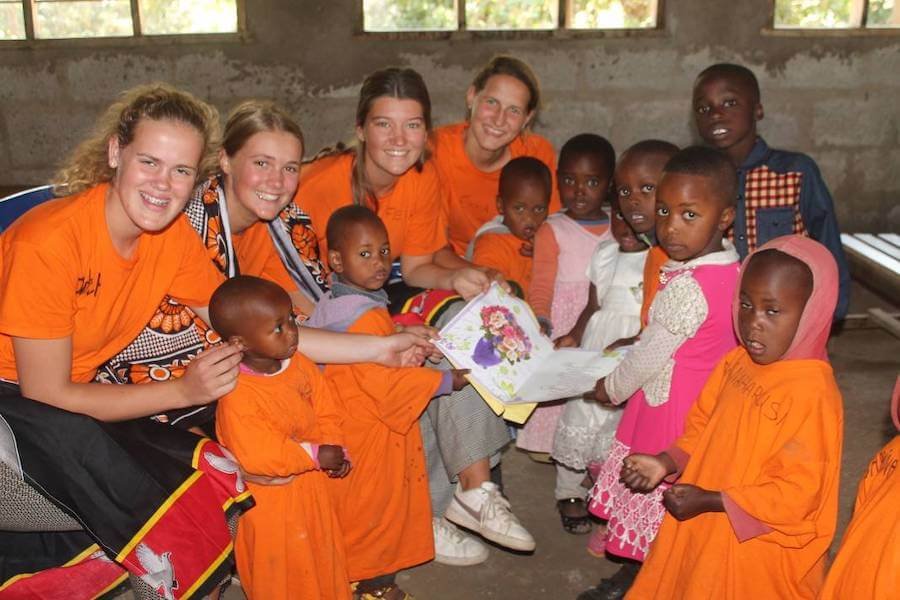 We are
Loved ♥️

by our Trusted Customers

The program was a great experience for me. The kids I taught were very smart and happy. They were very willing to learn which was amazing.
Kate from Australia
Your
Arrival
Get ready for a warm welcome to Tanzania! Your adventure begins the moment you arrive, with our airport pick-up on Sunday.
To ensure a smooth transition, we'll provide you with all the necessary arrival and contact details when you book your program.The local team will be waiting for you, ready to transfer you to your accommodation where you'll meet fellow volunteers from around the world.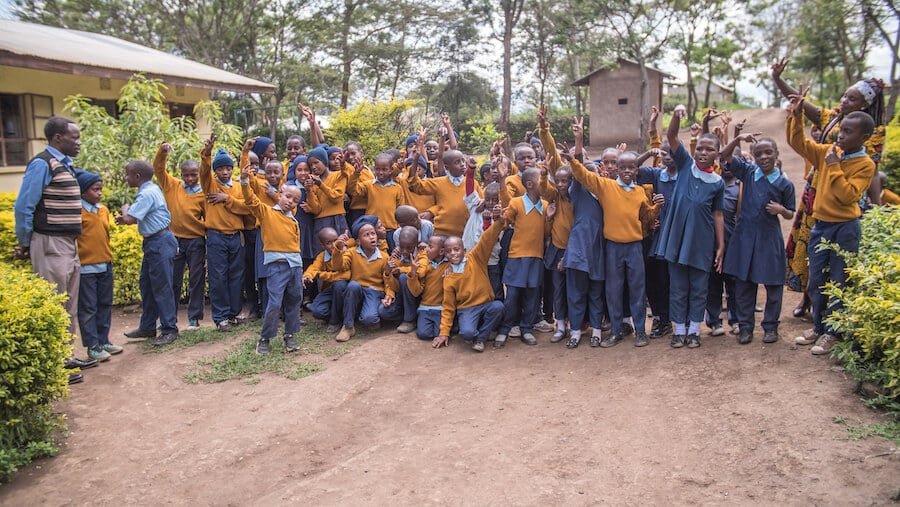 Your
Orientation
On Monday, our experienced coordinator will lead an exciting orientation session. This is your chance to get comfortable with your surroundings and dive into the local culture, while also receiving important health and safety advice.
During the orientation, you'll receive a comprehensive introduction to your program, accommodations, and the exciting projects that await. Plus, you'll learn all the do's and don'ts of local customs, giving you a head start on immersing yourself in the rich and vibrant culture of Tanzania.
Your
 Accommodation
Your accommodation is included in your package from Sunday night until Saturday morning of your last week, so you can rest assured that you'll have a comfortable place to call home throughout your journey.
You'll be staying in shared rooms with other volunteers, giving you the perfect opportunity to make lifelong friends from around the globe. You'll be accommodated in single-gender dorm-style rooms, ensuring maximum comfort and privacy.
But that's not all – we've got your meals covered too! You'll enjoy three delicious meals per day from Monday to Friday, and two meals per day on weekends. Plus, if you're a vegetarian, no problem! We can vegetarian meals for you.
Tanzania
Our projects in Tanzania. You can choose which project you day week by week and create your own unique schedule in Tanzania!
Culture Week
Embark on an enriching journey to Tanzania, where you'll have the opportunity to forge new connections and immerse yourself in the captivating local culture. This kickstart week will introduce you to the wonders of this country and its unique way of life, setting the stage for an unforgettable experience.
During this week, you'll explore key locations that are deeply intertwined with Tanzania's rich culture and history. Engage in orientation classes that will equip you with essential knowledge, and venture to a Maasai Village and other places of interest. These experiences will not only foster your integration into the local culture but also provide you with the tools to settle seamlessly into this vibrant part of the world.
The Culture Week is brimming with captivating activities designed to introduce you to local customs, traditions, and language. Immerse yourself in Swahili language lessons and gain insight into the do's and don'ts of Tanzanian culture. A walking safari will take you on an exhilarating journey through the natural habitats of diverse wildlife, allowing you to witness these magnificent creatures in their untouched surroundings.
Discover the remarkable town of Monduli, a bustling township steeped in history and development. Visit museums, art galleries, and monuments that shed light on Tanzania's struggle for independence and progress. Take the opportunity to explore the town, meander along scenic roads, and revel in the breathtaking beauty of the surrounding outdoors.
Indulge in a Tanzanian cooking class where you'll learn to create authentic dishes, savoring the flavors you craft with your own hands. And fear not, there will be ample opportunities to sample the local cuisine at charming eateries, immersing yourself in the culinary delights of the region.
Now let's delve into the schedule, carefully crafted to maximize your experience:
Monday:
– Breakfast
– Introduction meeting covering house rules, expectations, health and safety advice, and document handling.
– Tanzanian do's and don'ts, an introduction to the culture, and an immersive session on the country's history.
– Intensive Swahili language lessons.
– Tour of the compound and local area, discovering local shops and arranging necessary SIM cards.
– Lunch
– Weather and time permitting, hike up the scenic Monduli mountains.
– Dinner
Tuesday:
– Breakfast
– Visit Maasai Museum/Snake Park & Handicraft Gallery
– Lunch
– Explore the local Maasai Livestock Market
– Engage in a delightful cooking class
– Dinner (savor the delicacies you helped prepare)
Wednesday:
– Breakfast
– Visit Arusha town, where you'll have the opportunity to explore the Cultural Heritage Art Gallery and local craft market.
– Lunch
– Delve into Arusha's vibrant offerings, visiting museums, monuments, and supermarkets.
– Dinner
Thursday:
– Breakfast
– Set off on a captivating walking safari, exploring the local terrain and observing animals in their natural habitat.
– Lunch
– Enjoy sports activities with the community or indulge in some well-deserved free time.
– Dinner
Friday:
– Breakfast
– Engage in a beadwork session with Maasai women, learning the art of creating your own jewelry.
– Lunch
– Learn about Maasai dress and immerse yourself in the Maasai language.
– Evaluation meeting and introduction to your placement or enjoy some free time.
– Dinner
Please note that this schedule is subject to change or amendment based on weather conditions, local circumstances, and unforeseen events. We strive to provide you with the best experience possible, and any adjustments will be made with your safety and enjoyment in mind.
Prepare yourself for an extraordinary adventure, as Tanzania beckons you with open arms to discover its vibrant culture, breathtaking landscapes, and warm-hearted people. 
Teaching
Embark on a rewarding journey as a community teacher in Tanzania and witness the transformative power of education in the lives of eager students. By lending your expertise, you'll contribute to the improvement of English language skills among local children in the vibrant Monduli district. This role as a community teaching assistant is bound to be an enriching and fulfilling experience, particularly if you have a passion for teaching and a genuine love for children.
In collaboration with friendly school teachers, you'll provide support within the local schools, following their curriculum and creating engaging lesson plans. Utilizing informal group activities that incorporate games, coloring, books, and toys, your goal will be to enhance the English proficiency of the students. Through interactive teaching methods, you'll help broaden their minds and foster a love for learning.
Our established partnerships with various primary, secondary, and high schools in the Monduli district have identified a need for teaching support, making your presence invaluable. In addition to English instruction, you may have the opportunity to assist with teaching mathematics and science to higher-level students.
As a teaching assistant, you'll collaborate with local educators to facilitate basic English lessons, incorporating song exchanges and educational games. Additionally, you'll guide the children through activities such as handicrafts, sports, drawing, coloring, and writing. Many of these young learners thrive on attention and stimulating activities that contribute to their overall development.
The teaching program primarily focuses on supporting children aged 6 to 14 (grades 1-7). School hours typically run from 8:00 am to 4:00 pm, providing ample time for engagement with the students. You can expect to spend approximately 4-6 hours per day interacting with the students, with breaks between class sessions and the possibility of participating in after-school activities when available.
Feel free to bring teaching materials such as games, colored pencils, erasers, English language books, and even clothes and toys for donation. It's also recommended to bring pictures or small objects representing your country of origin, which can serve as educational tools to broaden the children's worldview.
Now, let's take a look at the schedule designed to maximize your impact:
Monday to Friday:
– Breakfast
– Assisting teachers and students at the school
– Lunch break
– Continued support for teachers and students at the school
– Lesson planning for the following day
– Dinner
Please note that this schedule is subject to change or adjustment based on weather conditions, local circumstances, and unforeseen events. Our aim is to provide you with a flexible and impactful experience that aligns with the needs of the local community.
Prepare yourself for an incredible opportunity to make a lasting difference in the lives of Tanzanian students. Your dedication as a community teacher will not only empower these young learners but also inspire them to pursue a brighter future through education. Get ready to embark on a transformative journey of teaching, learning, and cultural exchange.
Environmental Conservation
Immerse yourself in the captivating landscapes of rural Monduli, Tanzania, as you actively contribute to local conservation efforts aimed at preserving its precious natural environment. By participating in reforestation initiatives, teaching classes on environmental conservation, and engaging in tree planting activities, you'll become an integral part of the community's quest to safeguard their surroundings. This program not only serves to protect the diverse wildlife and habitats but also promotes crucial environmental awareness among the residents of Monduli.
Your involvement in this program will not only benefit the local ecosystem but also leave a lasting impact on future global citizens. It presents a unique opportunity to experience the remarkable development taking place in Tanzania by reconnecting with nature, a fundamental element that shapes our world.
Tanzania, with its distinctive weather patterns and natural topography, has limited rainforest areas. The forestry departments make commendable efforts to preserve the existing rainforests, but more action is needed. It is now crucial for community members to play their part in protecting these forested regions and the wildlife that relies on them. In Monduli, we collaborate with an exceptional organization dedicated to maintaining a healthy environment for the community, while empowering the women leading the initiative. Their remarkable work contributes to the preservation of the landscape, as many areas are experiencing a depletion of trees, which negatively impacts air quality and poses challenges for locals supporting their families.
This program works hand in hand with a local school's environmental club, providing invaluable knowledge and guidance to students on the importance of environmental conservation. It's an exceptional opportunity to instill responsible behavior towards the environment, shaping them into stewards of nature. By dedicating your time to this campaign and participating in tree planting activities, you'll nurture a future generation of environmentally conscious global citizens.
Your daily tasks will vary based on weather conditions and the season. You can anticipate engaging in tree planting activities both in the forest and community spaces, as well as assisting with tasks in the tree nursery that support these efforts. Whenever possible, you'll have the opportunity to organize classes with the environmental club, held either in the school or community halls, aimed at educating local children and teenagers about environmental conservation.
This program welcomes individuals from all backgrounds, with a special invitation to those working or studying in the forestry field. It offers an excellent opportunity to collaborate closely with community members, exchanging knowledge and expertise to collectively make a meaningful difference.
Let's take a glimpse at the schedule designed to maximize your impact:
Monday to Friday:
– Breakfast
– Working in the tree nursery, tree planting, and/or environmental club activities
– Lunch
– Continued engagement in tree nursery tasks, tree planting, and/or environmental club initiatives
– Evaluation
– Dinner
Please note that the schedule is subject to change or adjustment based on weather conditions, local circumstances, and unforeseen events. We strive to provide you with a flexible and impactful experience that aligns with the needs of the local community.
Prepare yourself for an incredible journey where you can contribute to the conservation of Tanzania's natural heritage. Your dedication as a participant in this program will not only nurture the environment but also leave an indelible mark on the community's sustainable future. Get ready to immerse yourself in the captivating beauty of Monduli's landscapes, forging meaningful connections, and working towards a brighter and greener tomorrow.
Maasai Tribal Immersion
Embark on a remarkable journey to discover the rich heritage of the Maasai people. Immerse yourself in their vibrant culture, traditional customs, and daily routines, cherishing every moment of this unforgettable experience.
This exclusive homestay offers a rare opportunity to gain firsthand insights into the fascinating African tribe. Renowned for their distinctive clothing, captivating storytelling, unique herding methods, and nomadic way of life, the Maasai have proudly preserved their age-old traditions despite external pressures to abandon their ancestral practices. While learning about the Maasai culture is undoubtedly valuable, why not go a step further and become an active participant? This is your chance to learn by doing, witnessing the Maasai way of life up close and engaging in the myriad activities that shape their daily existence.
During the Maasai Village Homestay, you will be warmly welcomed into their community, where you'll delve into their culture, partake in their daily tasks, and forge meaningful connections. Responsibilities are divided among community members, with men primarily tending to the tribe's cattle and engaging in trade, while women participate in milking, cooking, gathering firewood, caring for children, and even contributing to the construction of traditional bomas (houses). Throughout your stay, you'll have ample opportunities to deepen your understanding of Maasai culture through interactions, communication, and the exchange of ideas and experiences. Perhaps you'll learn beadwork alongside the women, master the art of crafting Maasai sandals with the men, or impart basic English language skills and engage in sports activities with the village children.
The Maasai people exemplify pride in their heritage, diligently safeguarding their unique culture. As one of the most emblematic tribes in East Africa, they possess a Nilotic ethnic background and reside in the northern Tanzanian and southern Kenyan regions. Known for their nomadic lifestyle (although they have been encouraged to settle in one place since the 1990s), vibrant attire, intricate beaded jewelry, and awe-inspiring traditions, the Maasai offer a captivating glimpse into a way of life deeply intertwined with nature.
Traditionally, Maasai families reside in a boma, where extended relatives share a compound. As nomads, the Maasai historically moved with their cattle in search of grazing lands. Even today, these animals remain crucial to their livelihoods. Through the sale of cattle and related products, the Maasai sustain their families. In fact, organizations like Oxfam advocate for embracing the Maasai lifestyle as a response to climate change, recognizing their remarkable ability to farm in deserts and scrublands.
Maasai culture may appear starkly different from Western norms. For instance, polygamy is practiced, and a man's wealth is often measured by the number of cattle he possesses, influencing the number of wives he may have. Larger families ensure ample hands to tend to cattle, cows, goats, sheep, and donkeys. Due to the remote location of the program and limited local transportation, participants may need to spend the first night in Monduli and travel to the village the following morning. Moreover, to enhance immersion, you may be assigned to various villages within the Maasai community.
Let's take a glimpse into the schedule designed to make the most of your Maasai Village Homestay:
Monday:
We commence the day with an introduction to the village and Maasai culture. You'll learn useful phrases in the Maasai language, which will serve you well throughout the week. Gain insights into the Maasai way of life, cultural norms, and essential do's and don'ts. After lunch, embark on a wilderness trek, immersing yourself in the breathtaking nature surrounding the village. Visit local calderas and relish the awe
-inspiring views.
Tuesday:
Today is dedicated to the Maasai herding traditions. Join a Maasai warrior on his grazing activities through the bush, be prepared for several hours of walking. During the dry season (June to October), grazing involves additional challenges, such as walking longer distances or digging holes to access underground water sources for the livestock. Don't be surprised if you're invited to participate!
Wednesday:
In the morning, engage in traditional activities alongside the women in a boma. Expect to participate in milking cows, fetching water from the river with donkeys, and more. After lunch, participate in an exciting workshop where you'll learn the art of creating exquisite beaded Maasai jewelry—craftsmanship that has made the Maasai tribe renowned for their vibrant and symbolic adornments. The day concludes with a cooking class led by one of our hosts, offering you valuable insights into Maasai culinary traditions. This will be your dinner, so pay close attention!
Thursday:
Today marks another day of livestock grazing. Brace yourself for an adventurous journey as you embark on long walks through the African bush, witnessing the Maasai way of life in action.
Friday:
Embark on another captivating hike through the African wilderness, embracing the spirit of exploration. After a few hours of exhilarating roaming, relish a picnic with a breathtaking view of the valley. In the evening, gather around a bonfire, where you'll have the opportunity to listen to legendary tales about the Maasai and other captivating stories shared by the villagers.
Please bear in mind that village life operates on an as-needed basis. The provided schedule offers a glimpse into what your week might entail during your homestay, but activities are subject to change based on weather conditions, community needs, ceremonies, or unforeseen circumstances. Your flexibility and adaptability to the new surroundings will greatly enhance your incredible experience.
Keep in mind that this schedule is subject to change or adjustment based on weather conditions, local circumstances, and unforeseen events. We strive to provide you with a flexible and enriching experience that aligns with the needs of the Maasai community and ensures an unforgettable adventure.
Empowering Village Women
Discover the empowering journeys of Maasai women as they forge their own paths, ensuring their voices are heard in traditionally patriarchal communities. This transformative program offers a unique perspective into Maasai Tribe culture and sheds light on the profound impact of prioritizing girls' education. Our primary focus lies in fostering fundamental skills and financial literacy among local women, equipping them with the knowledge to earn income and support themselves and their children.
Maasai society boasts a distinct lifestyle, setting it apart from other communities in Tanzania. Their traditional attire, vibrant decorations, and unique way of living reflect their rich cultural heritage. Women across numerous Maasai communities often endure poverty and cultural oppression. Men hold the leadership roles and dominion over households and villages, leaving women with limited agency in various aspects of life.
The primary source of income for Maasai women stems from the sale of traditional beaded jewelry. However, the absence of education leaves them vulnerable, lacking a structured means to safeguard their economic interests. This is where your support becomes crucial, fostering a mutually beneficial exchange of knowledge that empowers Maasai women to make informed financial decisions.
In the Maasai tribes, women primarily engage in activities such as milking, tending to calves, and domestic work. While these tasks currently occupy the majority of their time, the emphasis on education and community involvement remains limited, thereby restricting women's avenues for sustainable development in the future.
As the majority of the women in the village do not speak English, a locally trained coordinator will be on-site to facilitate effective communication between you and the women. Our shared goal is to empower Maasai women and equip them with the tools to shape their futures, ensuring a fruitful and fulfilling life even into their old age.
Given the remote location of the program and limited local transportation, your first night may be spent in Monduli. Additionally, while the placement is within a Maasai village in Arusha, the immersion experience may involve spreading across various villages to enhance the depth of your engagement.
Take a glimpse into the daily schedule designed to maximize the impact of your time with the Maasai women:
Monday to Friday:
Breakfast
Meet the women's group and provide insights into health measures for themselves and their children.
Engage in meaningful discussions with Maasai women about sustainable projects that foster financial independence.
Lunch
Highlight the importance of education and its transformative potential for Maasai women.
Explore various methods of mobilizing personal resources, such as Table Banking and Saving Strategies.
Dinner
Please note that this schedule is subject to change based on weather conditions, local circumstances, and unforeseen events. We strive to provide you with a flexible and impactful experience, tailored to the needs of the Maasai community, as you embark on this incredible journey of empowerment and collaboration.
Childcare
Become a catalyst for learning and growth at rural Tanzanian kindergartens! Join the local teachers in their noble mission of nurturing young minds by providing care, organizing activities, and so much more. In this program, you'll have the opportunity to assist teachers at local primary schools and kindergartens, catering to children aged 3 to 6. Beyond sharing your knowledge of basic English, numbers, colors, and more, you'll actively contribute to the classroom environment and create engaging educational experiences like drawing, singing, and other interactive endeavors.
During your time in this program, you'll be immersed in the lively world of young children, collaborating with dedicated educators across various kindergartens and primary schools in the Monduli area. Based on the specific needs of each institution, you may be placed in a kindergarten, childcare center, or even the first two grades of a primary school. Class sizes can range from 10 to 30 children, and your invaluable support will be cherished by the local staff.
Working closely with the teachers and staff, you'll provide assistance in managing the classroom dynamics. But that's not all—unleash your creativity as you take the lead in designing activities such as drawing, coloring, games, and more. Your aim will be to foster English language skills through the use of imaginative expression, including storytelling, poems, songs, and games. While English is taught in Tanzania, opportunities to practice it may be limited in rural areas. By helping children master this global language, you'll significantly enhance their future prospects.
Monday to Friday, you'll devote approximately 4 to 5 hours each day to your program placement, with a well-deserved break in between. Afterward, you'll have time in the afternoon to prepare for the next day's activities and lessons before coming together for dinner. A typical day may unfold as follows:
• Enjoy a nourishing breakfast at your accommodation.
• Engage children in creative and interactive learning activities, lending your support to the local teaching staff.
• Take a refreshing morning break at the program.
• Continue engaging children in captivating educational experiences, working closely with the teachers.
• Assist the local staff in serving lunch to the children.
• Savor a delicious lunch at your accommodation.
• Dedicate time to prepare a thoughtfully crafted lesson plan for the next day.
• Enjoy some well-deserved free time to recharge and explore.
• Reunite for a satisfying dinner at your accommodation.
Please note that this schedule is subject to adjustment based on weather conditions, local circumstances, and unforeseen events. Flexibility and adaptability are key to ensuring a seamless and impactful experience. Together, let's embark on this remarkable journey of sharing knowledge, fostering creativity, and empowering young hearts and minds.
Construction & Renovation
Be a catalyst for change and contribute to the transformation of local village schools, paving the way for better learning conditions for the students.
This impactful project is dedicated to supporting schools in and around the Monduli area by rejuvenating their infrastructure and creating an environment conducive to optimal learning experiences. As part of this initiative, we also provide essential learning facilities wherever they are needed. Our efforts encompass a wide range of projects, including renovating libraries, revitalizing playgrounds, repairing school furniture, and lending a helping hand wherever it's needed.
By actively participating in this social project, you have the power to make a profound difference in the local community by directly supporting the students in these schools. Your involvement will focus on creating a positive learning environment, where your tasks may involve physically demanding and manual labor, such as bricklaying, carpentry work, painting, tiling, and landscaping. Additionally, we may engage in renovating buildings, painting classrooms, repairing furniture, fixing equipment, and more.
But it doesn't end there. This project also offers you the opportunity to infuse a touch of artistry and creativity into the school surroundings. Your innovative ideas can help beautify the school environment and contribute to a more inspiring atmosphere. Throughout the project, you'll work alongside a local coordinator and a skilled foreman who will provide guidance and support. Together, you'll embark on this fulfilling journey that embraces both the spirit of initiative and the joy of creativity.
From Monday to Friday, each day will begin with a nourishing breakfast. You'll then collaborate with the coordinator to plan the project tasks for the day, ensuring a structured and purposeful approach. With the support and guidance of our coordinator, you'll head to the project location, where you'll join fellow participants and immerse yourself in your daily tasks. Throughout your time at the project, the coordinator will be there to provide assistance and ensure a seamless experience.
Please keep in mind that this schedule is flexible and subject to change based on weather conditions, local circumstances, and unforeseen events. As we adapt to the dynamic nature of the project, we remain committed to creating a lasting impact on the lives of the students and the community.
Together, let us channel our collective efforts into renovating village schools, fostering a love for learning, and empowering the students with a brighter educational journey.
Program
Prices
1 Week: 555 Euro
2 Weeks: 685 Euro
3 Weeks: 875 Euro
4 Weeks: 1065 Euro
+1 Week: 235 Euro
* The Culture Week, Maasai Tribal Immersion & Construction Project has an extra fee of 85 Euro per week
With us there are NO registration or administration fees!
Plus you can easily combine the different projects.
What's included:
Volunteer program
Accommodation
Meals
24/7 in-country support
In-country program orientation
Pre-departure support
Airport pick-up
Not included:
visa, flight, travel insurance, vaccinations, criminal background check, return trip to the airport, 5% international banking fee
Requirements to join:
– Participants need to be minimum 18 years old
– Participants under 16 need to join with a parent/guardian
– Participants aged 16 to 18 need to have parental consent
– Participants are required to provide a criminal background check (if unable to obtain a criminal background check, you can provide two character reference letters instead)
– Participants are required to have their own travel insurance
– You need to be able to speak and understand at least basic English
Testimonial
Sarah Snook
A testimonial from Sarah Snook the famous Hollywood actress who joined our volunteer program.