Volunteer in
Zanzibar
Volunteer in Zanzibar with Abroad Escape! Embark on a remarkable trip with Abroad Escape and discover the wonders of Zanzibar through volunteering. Delve into an extraordinary chapter of your life by dedicating your time and skills as a volunteer in this captivating destination. Our exclusive volunteer programs in Zanzibar empower you to create your own personalized itinerary, engaging in profoundly meaningful projects that leave a lasting impact on the local community.
Also check out our Zanzibar Internship
Create
Your Own Unique Schedule

In

Zanzibar

!
Create your own unique tailor-made schedule from our 8 meaningful projects in Zanzibar

We are the most affordable volunteer organization for quality volunteering projects worldwide
With the freedom to choose your own unique schedule as you want week by week. With us, you have the power to create your own tailor-made volunteer program that aligns with your passions and interests. You have the flexibility to start any Monday and stay for anywhere between one to twelve weeks.
If you are a passionate volunteer with a heart for nurturing young minds and an eagerness to transform lives in Zanzibar, then these programs are tailor-made for you. With a focus on early childhood education, these opportunities provide an ideal platform for you to channel your enthusiasm and create a positive impact on the lives of the little ones in this beautiful country.
Location: Stone Town & Nungwi, Zanzibar
Start Dates: Start every Monday
Duration: 1 week – 12 weeks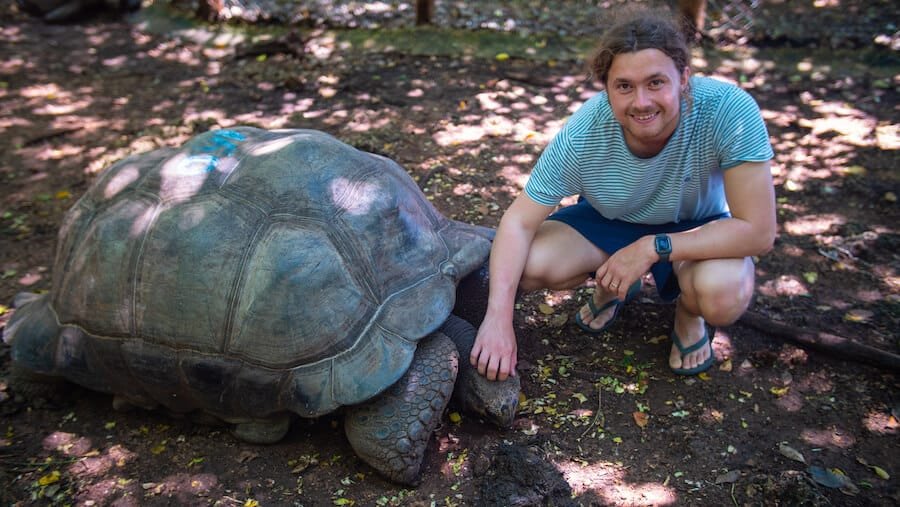 Why Join With
Abroad Escape
Abroad Escape is committed to providing you with the highest-quality and most meaningful travel experiences possible. With our international volunteer abroad projects and immersion internships, you'll have the chance to make a real impact in the lives of local communities. With our immersive volunteer programs, you'll have the chance to engage with local communities and make a real impact in the lives of those around you. But that's not all – you'll also be creating lifelong friendships with fellow international travelers who share your passion for travel and making a positive impact.
We are
Loved ♥️

by our Trusted Customers


I volunteered with Abroad Escape, which was definitely the best trip and the best experience of my life!


The program was a great experience for me. The kids I taught were very smart and happy. They were very willing to learn which was amazing.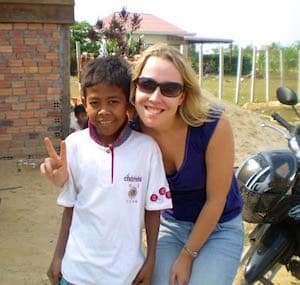 I had an amazing time in volunteering. I was happy with the whole experience and would love to go back in the future!
Your
Arrival
Get ready for a warm welcome to Zanzibar! Your adventure begins the moment you arrive, with our airport pick-up on Sunday at Abeid Amani Karume International Airport. To ensure a smooth transition, we'll provide you with all the necessary arrival and contact details when you book your program. The local team will be waiting for you, ready to transfer you to your accommodation where you'll meet fellow volunteers from around the world.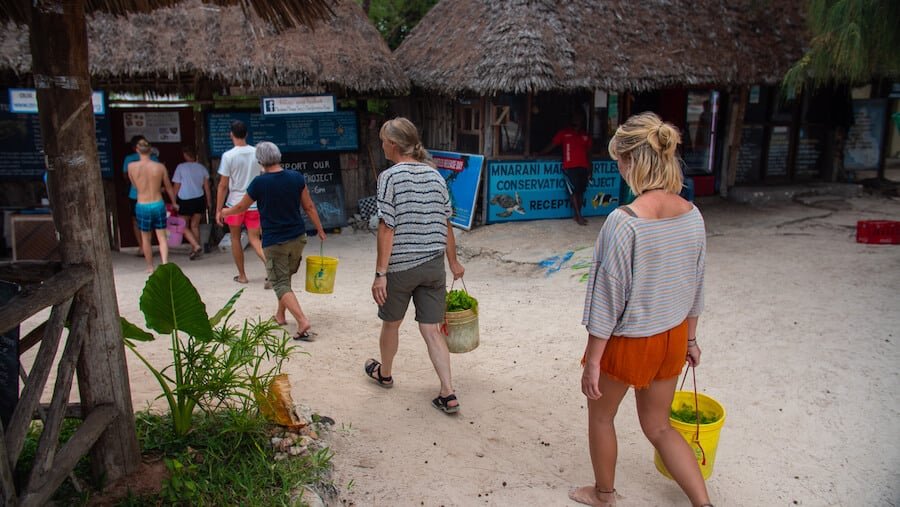 Your
Orientation
On Monday, our experienced coordinator will lead an exciting orientation session. This is your chance to get comfortable with your surroundings and dive into the local culture, while also receiving important health and safety advice.
During the orientation, you'll receive a comprehensive introduction to your program, accommodations, and the exciting projects that await. Plus, you'll learn all the do's and don'ts of local customs, giving you a head start on immersing yourself in the rich and vibrant culture of Zanzibar.
Your
 Accommodation
Your accommodation is included in your package from Sunday night until Saturday morning of your last week, so you can rest assured that you'll have a comfortable place to call home throughout your journey.
You'll be staying in shared rooms with other volunteers, giving you the perfect opportunity to make lifelong friends from around the globe. You'll be accommodated in single-gender dorm-style rooms, ensuring maximum comfort and privacy.
If you want to have a single room, then this is available at an extra cost. There is limited availability for single rooms so please contact us for this.
But that's not all – we've got your meals covered too! You'll enjoy three delicious meals per day from Monday to Friday, and two meals per day on weekends. Plus, if you're a vegetarian, no problem! We can vegetarian meals for you.
Zanzibar
Programs
Our projects in Zanzibar. You can choose which project you day week by week and create your own unique schedule in Zanzibar!
Cultural Experience
in Zanzibar
Embark on an extraordinary journey to the captivating island of Zanzibar, where a world of cultural riches, intricate history, and remarkable people awaits your exploration. Step foot on this remarkable island that has woven its vibrant tapestry into the fabric of Tanzania, leaving an indelible mark on the nation's identity.
As you immerse yourself in the unique wonders of Zanzibar, bask in the warm embrace of the tropical climate and the genuine hospitality of its local community. Uncover the hidden gems that lie within the narrow alleyways of Stone Town, a maze-like enclave that whispers stories of the past. Marvel at the graceful turtles of Prison Island and allow the captivating history and culture of Zanzibar to unfold before your eyes.
This immersive experience will grant you insight and appreciation for the island's renowned spices and its incomparable atmosphere. Zanzibar is a place where diverse worlds and cultures converge, creating a breathtaking mosaic adorned with African, Arabic, Asian, and European influences. While exploring Stone Town, you may find that the intricately carved doors hold a fascination of their own, offering a glimpse into a bygone era. Indulge in moments of tranquility as you relax on pristine beaches, caressed by the gentle rhythm of the ocean waves. And as the sun sets, allow the vibrant pulse of Zanzibar's nightlife to awaken your senses.
Prepare yourself for an enchanting sensory journey where the fragrant aromas, tantalizing tastes, captivating sights, and delightful touches of this remarkable place will transport you into a realm of pure wonder.
Schedule
Monday
Breakfast
Orientation
Lunch
Language lesson
City tour
Welcome dinner
Tuesday
Breakfast
Local market visit
Cooking lesson and lunch at the local house (Swahili house visit)
Dinner
Wednesday
Breakfast
Prison Island (snorkeling / G. Tortoise visit / prison visit and history / Explore the island )
Lunch
Language lesson
Spice plantation visit
Dinner
Thursday
Breakfast
Local transport for Makunduchi (2 hours of transport)
Village cycling tour / Khanga demonstration / Special lunch with fruit and snack , Coconut ropes making / Coconut roof making / Witch doctor
Dinner
Friday
Breakfast
Full day beach visit with packed lunch
Dinner
* This schedule can be changed and/or amended depending on weather conditions, local conditions and unforeseen circumstances.
Child Care
in Zanzibar
Immerse yourself in the vibrant educational landscape of Zanzibar, where you can share fundamental knowledge and make a meaningful impact at local kindergartens, childcare centers, and primary schools. By assisting dedicated teachers and staff, you will contribute to the growth and development of children in this enchanting island setting.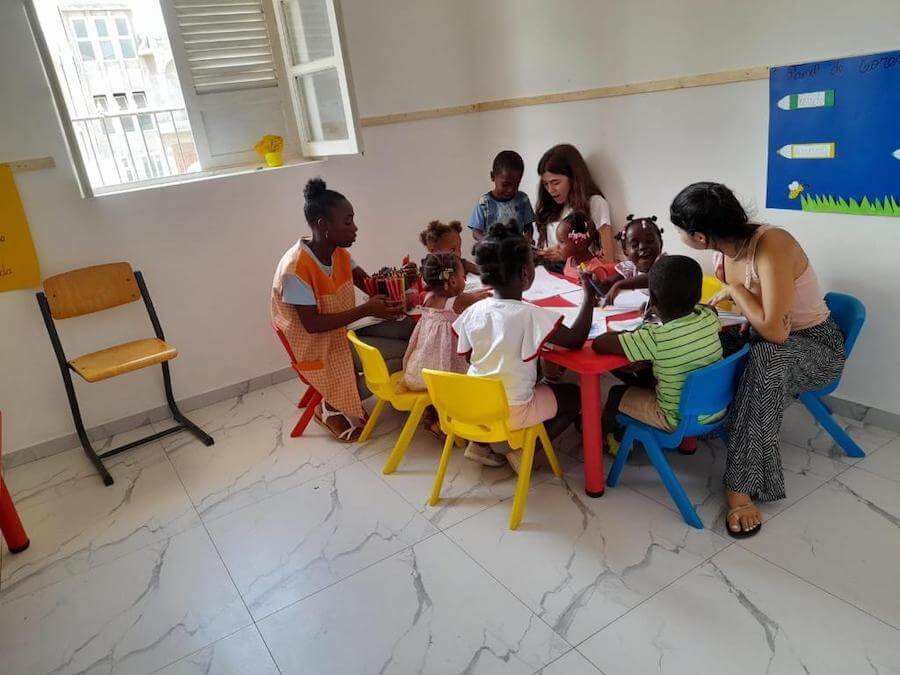 In this program, your role will involve supporting educators and nurturing the curious minds of children aged 3 to 6 years old across various kindergartens and primary schools in the captivating Stone Town area. Beyond imparting essential concepts such as basic English, numbers, and colors, you will actively engage in classroom supervision and design stimulating educational activities. From delightful drawing sessions to captivating sing-alongs, your creative contributions will enrich the learning experience of these young learners.
Within the context of Zanzibar, where the English language is widely taught, you have a unique opportunity to help children practice and refine their language skills, fostering their self-expression through storytelling, poetry, songs, and games. By empowering them with English proficiency, you are equipping them with a valuable tool that can significantly enhance their future prospects.
From Monday to Friday, you will dedicate 4 to 5 hours each day to this rewarding program, with breaks interspersed throughout. Mornings will commence with a nourishing breakfast at your accommodation, preparing you for a day filled with immersive learning activities. Engage the children in captivating educational endeavors, collaborating closely with the local teaching staff. Take advantage of the morning break to rejuvenate before diving back into the realm of creativity and learning. You will also lend a helping hand in serving lunch to the children, fostering a sense of community and care. Afterward, enjoy a satisfying lunch at the accommodation, followed by dedicated time to prepare lessons and activities for the upcoming day. In the afternoon, you will have some free time to unwind before relishing a wholesome dinner at your accommodation.
You will work for 4-5 hours per day, with a break in between, assisting with program placement. You will have time in the afternoon to prepare for the next day's activities and lessons before dinner.
The day could look like this:
– Breakfast at the accommodation
– Engage children in creative learning activities and assist local teaching staff
– Morning break at the program
– Engage children in creative learning activities and assist local teaching staff
– Help local staff serve lunch to the children
– Lunch at the accommodation
– Prepare a lesson plan for the next day
– Free time
– Dinner at the accommodations
* This schedule can be changed and/or amended depending on weather conditions, local conditions and unforeseen circumstances.
Teaching English
in Zanzibar
Embark on a transformative journey where you become an agent of change, joining local teachers in Zanzibar to create a powerful learning environment for students. Recognize the immense value of teachers as they lay the foundation for education, propelling young minds forward. By lending your support, you will not only make an immeasurable impact, but you will also gain invaluable experiences in return.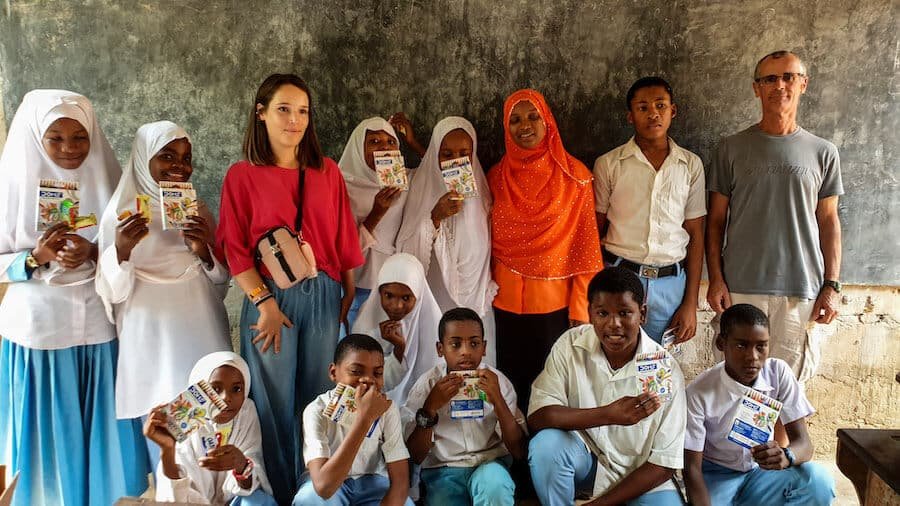 In this awe-inspiring corner of the world, Zanzibar offers more than just tantalizing spices and beautiful beaches. It is a melting pot of cultures and traditions, where young people eagerly await the knowledge and insights you bring. As you embark on this incredible opportunity to assist local teachers and students, you become an integral part of their educational journey.
Through our strong partnerships with primary and secondary schools across Zanzibar, many of which are situated outside the bustling city areas, you will step into classrooms where your expertise is desperately needed. Subjects such as English, Math, and Science await your guidance and support. Embrace the power of music, using songs as a teaching tool, and engage the students in educational games. Take the lead in enriching activities like arts and crafts, sports, drawing, coloring, writing, and more.
Our teaching assistant program primarily caters to children aged 5 to 14 years (grades K-7). School hours typically span from 8:00 in the morning until 15:00 in the afternoon. As a participant, you will dedicate at least 4 hours per day to engage with the students, with breaks interspersed between class sessions. Occasionally, after-school activities may also be available. Take time to plan engaging lessons for the following day, ensuring a well-rounded learning experience for the students.
Feel free to bring teaching materials such as games, colored pencils, erasers, English language books, and even clothes and toys to donate. These contributions will be warmly welcomed and appreciated. Additionally, consider bringing pictures or small objects that represent your country of origin, offering an educational lesson that broadens the children's understanding of the world.
From Monday to Friday, your days will be structured to maximize your impact. Begin with a nourishing breakfast that energizes you for the day ahead. Embrace your role as an assistant to teachers and students, working hand in hand to create a dynamic learning environment. Take a well-deserved break for lunch, where you can recharge and connect with colleagues. Return to the classroom, offering your support until the end of the school day. Dedicate time to plan engaging lessons, ensuring the next day is filled with exciting educational experiences. Finally, savor a satisfying dinner, reflecting on the meaningful work accomplished.
Monday to Friday
Breakfast
Assisting Teachers and Students at the school
Lunch break
Assist Teachers and Students at the school
Lesson Planning for next day
Dinner
* This schedule can be changed and/or amended depending on weather conditions, local conditions and unforeseen circumstances.
Construction & Renovation Project
in Zanzibar
Join us in the noble endeavor of revitalizing local village schools, paving the way for improved learning conditions for students.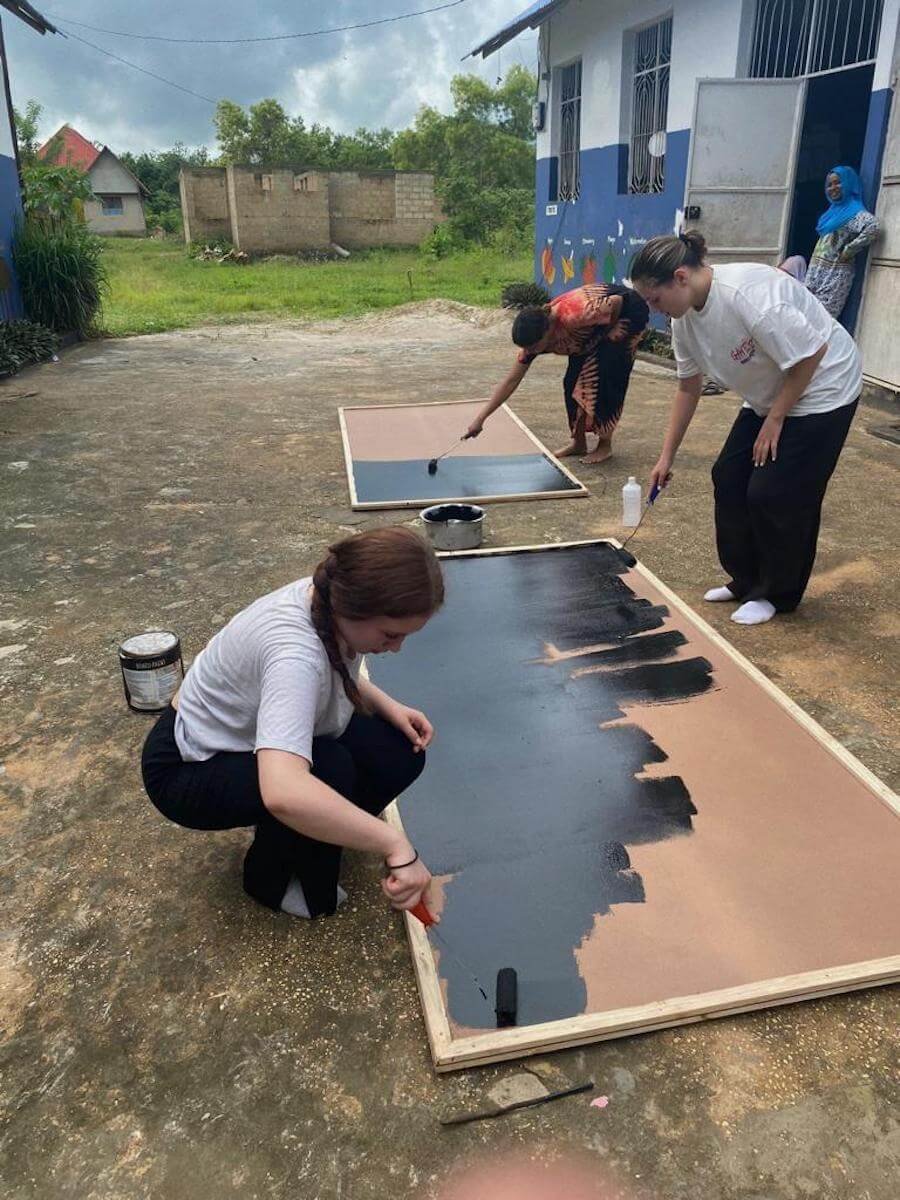 Our initiative is dedicated to supporting schools in and around the enchanting Stone Town in Zanzibar. By restoring and renovating their infrastructure, we aim to create an environment conducive to effective education. Moreover, we extend our assistance by providing essential learning facilities wherever they are needed. This comprehensive project encompasses various tasks, including renovating libraries, revamping playgrounds, repairing school furniture, and addressing any other areas requiring a helping hand.
By actively participating in this impactful social project, you have the power to make a tangible difference within the local community, offering invaluable support to the deserving students attending these schools. Your involvement will contribute to the establishment of a positive and nurturing learning environment, promoting academic excellence and personal growth.
Engaging in this project requires physical and manual labor, as we lay bricks, engage in carpentry, apply fresh coats of paint, lay tiles, and enhance the landscape through gardening and landscaping. Additionally, we may embark on renovating buildings, restoring and painting structures, repairing furniture, and fixing equipment. This holistic approach ensures that no aspect of school improvement is overlooked, providing an all-encompassing transformation.
However, our project extends beyond the realm of construction. It offers an artistic and relaxing dimension, where your creative ideas can flourish, adding beauty and charm to the school surroundings. Working alongside a knowledgeable local coordinator and a skilled foreman who provide guidance, you will experience the joy and satisfaction of supporting an initiative that celebrates creativity and community engagement.
From Monday to Friday, you will dedicate 4-5 hours each day to assist with the program placement, with breaks in between for rejuvenation. A typical day might unfold as follows: Begin with a nourishing breakfast at your accommodation, energizing yourself for the construction and renovation activities ahead. Engage in various tasks, applying your skills and dedication to enhance the school environment. Enjoy a refreshing break during the morning program, replenishing your energy for continued productivity. Resume your construction and renovation endeavors until lunchtime, where you can retreat to your accommodation for a well-deserved meal. Return to the site, working diligently until the day's end. Finally, savor your free time, indulging in personal relaxation or exploration, before coming together for a satisfying dinner at your accommodation.
Monday to Friday
You will be assisting at the program placement for 4-5 hours each day with a break in between. The day could look like this:
Breakfast at the accommodation
Construction and renovation activities
Morning break at the program
Construction and renovation activities
Lunch at the accommodation
Construction and renovation activities
Return to the accommodation
Free time
Dinner at the accommodations
* This schedule can be changed and/or amended depending on weather conditions, local conditions and unforeseen circumstances.
Turtle Conservation
in Zanzibar
Sea turtles around the world are facing real extinction even though they have been ecologically living on our planet since millions of years ago.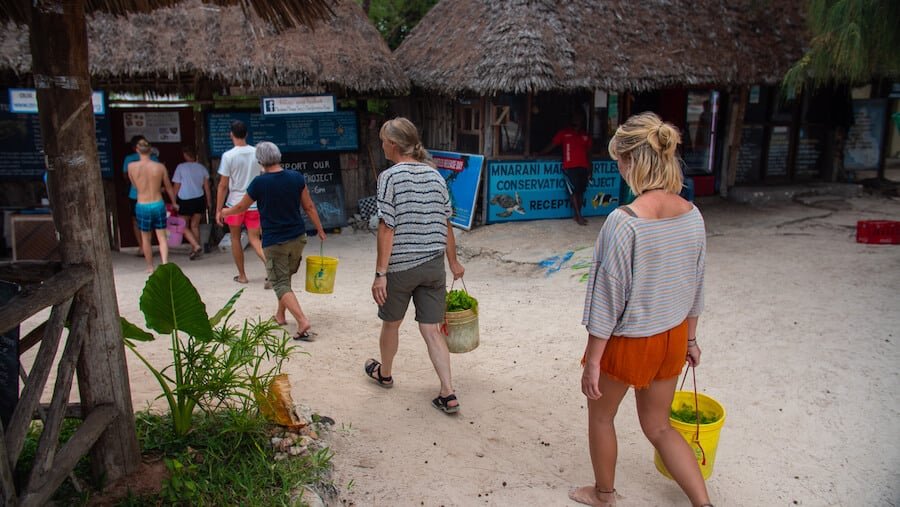 Be part of a sea turtle conservation project that is working towards helping sea turtles grow up in a safe environment where every year the endangered species are released into the ocean. This is where you can contribute to this project through a wide range of activities such as checking the water quality, maintenance of juvenile nets and much more!
Embark on a meaningful conservation journey with our Turtle Experience & Conservation Program, located in the picturesque lagoon of Nungwi, Zanzibar. This program offers a unique opportunity to actively contribute to the protection and preservation of endangered sea turtles while experiencing the beauty of this tropical paradise.
As a participant, you will work alongside local coordinators and fellow participants in various conservation efforts. Tasks include caring for injured turtles, monitoring hatchlings, and maintaining the sanctuary's habitat. Every contribution plays a crucial role in safeguarding these incredible creatures and their delicate ecosystem.
The program combines conservation activities with immersive experiences, allowing you to explore the natural beauty of Zanzibar. You will have opportunities for beach cleanups, snorkeling around vibrant coral reefs, and engaging with visitors and local communities during educational tours.
Whether you are an experienced conservationist or new to the field, our program welcomes individuals of all backgrounds and skill levels. Comprehensive orientation and guidance are provided to ensure that you can make a meaningful impact.
Join us on this unforgettable adventure, where your passion for conservation and love for the natural world converge. Experience the magic of Zanzibar, connect with sea turtles, and contribute to a legacy of conservation for future generations. Together, let us create a world where turtles thrive, and nature's beauty is cherished.
This program offers participants a unique opportunity to actively contribute to sea turtle conservation. By engaging in various tasks and activities, participants play a crucial role in protecting and preserving these magnificent creatures.
Changing water of the Basins and Sea Turtle Hospital
Checking the Quality of the water
General cleaning
Seaweed collection in the Indian Ocean
Filling of Tube Feeders
Cleaning of adult turtles
Feeding of adult turtles in the protected lagoon area while drifting around in its waters
Assist in treatment of injured sea turtles in the Hospital
Lagoon Cleaning (remove leaves and plastic)
Hatching measurements
Juvenile measurements
Beach cleaning
Inspection of nests
Maintenance of juvenile nests
Releasing of turtles to the ocean after full recovery and study & releasing of the young turtles to the ocean (this happens once a year):
Assisting in daily education tours for visitors at the controlled sanctuary
Please note that the daily tasks may vary to accommodate specific animal care needs, educational workshops, or other unforeseen circumstances.
Our program is designed to offer a comprehensive and immersive experience, allowing you to actively participate in conservation efforts while gaining a deeper understanding of the critical role we play in safeguarding our wildlife.
Schedule
Week 1:
Sunday: Arrival & Transfer to Nungwi
Upon your arrival at Zanzibar Airport, our friendly team will be waiting to warmly welcome you. You'll be transferred to our accommodation center in Stone town where you'll meet your fellow participants. Get ready to embark on an exciting adventure as you receive a comprehensive briefing that sets the stage for the incredible experiences to come.
Monday: Orientation
Begin your day with a delightful breakfast, followed by an orientation session that sets the tone for your journey. Our team will introduce you to the program, offer vital information, and acquaint you with the Nungwi center.
You'll receive guidance on the dos and don'ts, our code of conduct, and media consent guidelines, along with completing necessary documentation. Embrace the local culture with a basic history lesson & Swahili language lesson. After lunch, embark on a walking tour to familiarize yourself with nearby shops, ATMs, and other key locations.
After the orientation, you will transfer to Nugwi and check in to your accommodation. You will be staying at this accommodation for the duration of your program.
Tuesday to Friday: Conservation Efforts
From Tuesday to Friday, dive headfirst into meaningful conservation efforts. Work closely with our experienced local coordinators as you actively participate in a variety of tasks. Engage in the vital cleaning and maintenance of the turtle basins and hospital, ensuring a pristine environment for the turtles. Collect seaweed from the Indian Ocean, contributing to the ecological balance. Check water quality to guarantee the well-being of these magnificent creatures. Immerse yourself in the enchanting world of sea turtles as you assist with hatching measurements, juvenile measurements, and nest inspections. Every action you take contributes to the preservation and protection of these majestic beings.
Saturday & Sunday: Free Time
Take a well-deserved break and explore the wonders of Zanzibar at your own pace. Wander along the sandy beaches, soak up the sun, or embark on a thrilling adventure to discover the natural beauty and cultural treasures of this remarkable island.
Week 2
Monday to Friday: Conservation Efforts
In the second week, build upon the progress made in Week 1 and continue your conservation efforts. Dive deeper into the treatment of injured sea turtles, playing a crucial role in their recovery. Maintain the nests of the young turtles, ensuring a safe and nurturing environment for their growth. Join hands in beach cleanups, contributing to the preservation of the pristine shoreline. As you participate in these activities, you'll witness firsthand the impact of your dedication and the positive changes taking place.
Specific timings for each activity will be provided upon arrival, allowing for flexibility and adjustments to ensure a seamless and enriching program experience.
Please note that the schedule may vary to accommodate specific animal care needs, educational workshops, or other unforeseen circumstances. Our program is designed to offer a comprehensive and immersive experience, allowing you to actively participate in conservation efforts while gaining a deeper understanding of the critical role we play in safeguarding our wildlife.
* This schedule can be changed and/or amended depending on weather conditions, local conditions and unforeseen circumstances.
Sports Coaching
in Zanzibar
Dedicate your time to making a difference in the lives of the island children of Stonetown through play and sports!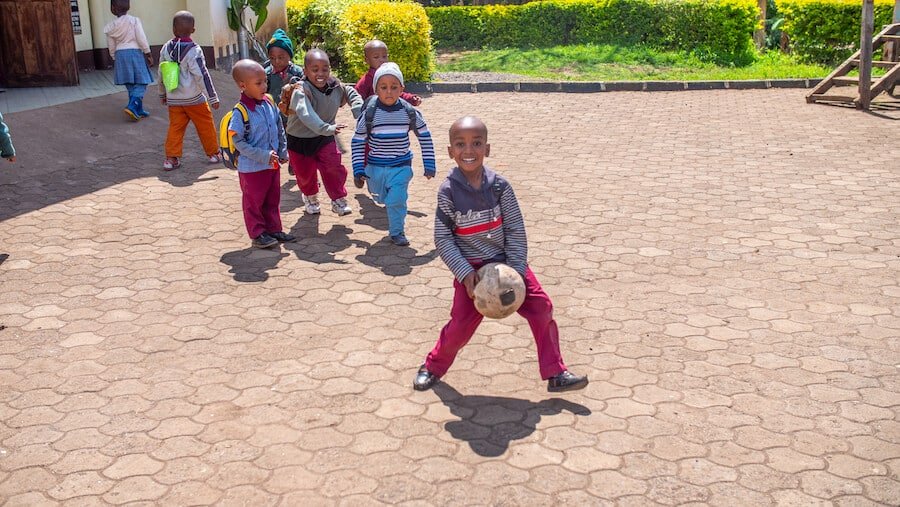 Share your love for sports and enjoy every minute of your time while spending it with the kids, the community, and other participants. You are about to uncover the potential of these young kids through assisting in sports training sessions, teaching various sports techniques, organizing matching events with other clubs or sports associations.
Sports are an integral part of human life and there is a great importance of sports in all spheres of life. Clearly, sports can help anyone reach fitness goals and maintain a healthy weight. It also prevents people, especially the youth, from engaging in different vices such as smoking and drinking alcohol. Instead, it helps them build their character and personality as a person, and in the long run, will make them advocates in the field of sports. In fact, research shows that children who play sports probably perform better at exams than those who don't because engaging in sports activities improves the thinking abilities of individuals.
On the other hand, Tanzania is a home and has produced world-class athletes, especially in the field of Athletics, which serves as the most dominant sport in the country. In addition, basketball, baseball, cricket, and rugby are also sports loved by the people of Tanzania. In fact, this country advocated and invested much in sports. This is because this is a country with people with a great passion for all sports in the world.
Thus, this sports coach program is designed for passionate individuals like you who would like to join a worthwhile project to teach the children at school the value and power of sports. You will have students of various age groups and various levels of skills, who will be ready to learn, play, and be part of your sports coaching journey. Moreover, your skills as their coach will help these children of Stonetown in having a great sports learning experience and hone their skills and passion for sport as well. Additionally, the coaching session will take place at the town Local schools.
In this program, you will have daily coaching sessions where you will be able to use your own methods of sports training. With your coaching, you will not only enhance their skills in sports but also you will inspire them to achieve more in life, to be disciplined, and even how to face failures and learn from them. It will also be a life lesson for the kids who do not have much but in the future who would strive to achieve greatness for sure.
This program includes Coaching options on the most famous and popular sports in Tanzania that include Football, Basketball, Rugby, Athletics, and Cricket.
So get ready, bring your passion, full energy with you and gear up and make these children's dream come true.You can also fell free to bring any sort of equipment of training aids, that will assist with your coaching experience, as equipment may be limited in some placement areas.
Generally, as a sports coach your major roles and core functions will be, but are not limited to: teaching relevant skills, tactics and techniques, introduced a basic rules and regulation of the each sports, organized game plans and matching events, monitoring and enhancing performances through encouragement, motivation and constructive feedback, identifying the children sports development needs, strengths and weaknesses, advising health and lifestyles issues and to be part of their journey towards future success.
Specifically, in each sport you may consider imparting some basic skills and techniques that will surely help honing the skills and potentials of the young athletes of Stonetown. Just keep in mind that they are just starting and you may need to start at the very basic and beginning.
Football – While there are no official national sports in Tanzania, the unofficial national sports is the most popular one; football/soccer.As has been mentioned a couple of times, soccer is quite popular among Tanzanian youth and children and most of the people are quite dedicated to the sports. In this, you need to put extra effort as this sport requires so much energy. U12, U14 and U17 where the vast majority of coaching options exist at local schools, academies and after school clubs. Thus, you may use or teach additional coaching options to the children.
Basketball – It is also played in the country but mainly in the army and school. Pass your knowledge of dribbling, offense, defense, jump shots and team work to local players eager to learn the fundamentals of the game. Your coaching will help young athletes/children in the local community / school to improve their game and train them to be stronger in every aspect. You may even get to share your knowledge during practice sessions, and scheduled games, alongside local coaches for organized competitive events.
Cricket – This sport is a rapidly growing sport in the country after hosting the ICC Cricket League Division 4 in 2008 where the national team finished the tournament with a win. Meanwhile, this sport requires batting skills, thus, the player must possess good hand eye – coordination, reflexes, strength, running speed, sound judgment and of course knowledge of cricket rules and an understanding of cricket strategy and tactics. Therefore, you may focus on that and impart your skills to the best of abilities that you have.
Rugby – This sport served as a minor sport in Tanzania. Being said, you will need to teach the fundamentals of the sport, emphasize rules and strategies, etc., because very few may be familiar with the sport at all.
Baseball – Tanzania baseball has been played frequently by a number of secondary Schools in the country and the participating number of students keeps on increasing. This sport requires five key skills such as running, fielding, throwing, hitting, catching and hitting for power. Thus, this is where your assignment started.
Athletics – Tanzania is known for their runners. This country is also a powerhouse in the Commonwealth Games and the African Championships in Athletics. Thus, Help the children to increase their speed, stamina, strength and skill. Many of them have dreams of representing their country on the world stage at the Olympics or other World Championships where two of their fellow countrymen bring honor to their country.
On the other hand, this is a great reminder for you that you are exploring this beautiful Town of Stonetown away from the comfort of your own home, thus, making a difference in the lives of the children is greatly appreciated.
Schedule
Monday & Tuesday
Breakfast
Leave Accommodation Center to Transfer to the Placement Areas.
Coaching Sessions.
Headed Back to the Accommodation Center.
Lunch
Free Time – Half day Break
Coaching Sessions.
Headed back to the Accommodation Center.
Dinner
Wednesday
Breakfast
Leave Accommodation Center to Transfer to the Placement Areas.
Coaching Sessions.
Lunch
Free Time – Half day Break
Coaching Sessions
Headed back to the Accommodation Center
Dinner
Thursday
Breakfast
Leave Accommodation Center to Transfer to the Placement Areas.
Coaching Sessions;
Headed Back to the Accommodation Center.
Lunch
Free Time – Half day Break
Coaching Sessions
Headed back to the Accommodation Center
Dinner
Friday
Breakfast
Leave Accommodation Center to Transfer to the Placement Areas.
Coaching Sessions.
Lunch
Free Time – Half day Break
Coaching Sessions
Headed back to the Accommodation Center
Dinner
* This schedule can be changed and/or amended depending on weather conditions, local conditions and unforeseen circumstances.
Healthcare Education
in Zanzibar
If you are a qualified medical practitioner or a person interested in a career in medicine, this is the program for you in this incredible location!
Assist in the healthcare of the residents of one of Tanzania's most beautiful towns. Work while learning about a new culture and world! Under this program, you will be able to either contribute to the development of healthcare in Stone Town, Zanzibar, by working as a professional or by teaching basic first aid and personal hygiene methods to locals, particularly local schoolchildren.
Tanzania's top priority is to eradicate public health issues through various healthcare programs. However, according to a recent report, the country is not only dealing with an estimated 56% of health care staff, but they are also unevenly distributed. As a result, you can have a meaningful stay by assisting the community with their health issues and teaching children in school about the importance of taking care of everyone's health.
Furthermore, because this healthcare education initiative is still in its early stages, it requires the skills of both established medical and healthcare professionals as well as those interested in teaching basic first-aid and personal hygiene.
The extremes in hygiene and health practices necessitate the need for project participants on either end of the medical spectrum. We need participants who can educate people on basic first-aid and personal hygiene, such as washing hands, brushing teeth, and general cleanliness, in addition to qualified professionals to conduct health camps and dental checkups. This contributes to the prevention of many preventable health issues and diseases.
If you are interested in education and simple hygiene techniques, you are welcome to join the newly established Healthcare Education Project. Medical professionals who can provide guidance on the project's development would be extremely beneficial; however, it is not required that participants have a medical background to participate.
As a participant in this project, you can help run healthcare campaigns in Stone Town's schools and community, as well as actively teach the importance of basic hygiene, such as brushing teeth correctly, washing hands, and general body cleanliness. You will also have the opportunity to collaborate closely with local medical officers and health clinic doctors, which will greatly enhance your experience.
In order to participate in this program, you must be physically and mentally prepared to undertake these medical initiatives. You must have an established medical background—studying on a pre – medical track, medicine, nursing, pharmacy, occupational/physical therapy, or working in a relevant field;
Proficient understanding of healthcare principles.
High level of efficiency, accuracy, and responsibility.
Can work under pressure and is a team player.
Excellent time management and self – organizing.
Strong desire to take on new challenges and learn as much as possible.
You will also need to submit your qualifications (Medical study transcripts), CV/Resume and a copy of your passport.
Schedule
Monday
Breakfast
Orientation meeting with the Medical Officer of the Town to understand the nature of the health issues and to get a short training where you will learn what is required to be done.
Lunch
Lesson Planning and Preparations for a Week long Healthcare Educational Campaign
Dinner
Tuesday to Friday
Breakfast
Conduct Healthcare campaigns in local schools in Stone Town. Teach about first-aid, hygiene, and personal care.
Lunch
Conduct Healthcare campaigns in local schools in Stone Town. Teach about first-aid, hygiene, and personal care.
Dinner
* This schedule can be changed and/or amended depending on weather conditions, local conditions and unforeseen circumstances.
Environmental Conservation
 in Zanzibar
Find yourself having a genuine interest in making a change in the benefits of environmental conservation and wanting to make a difference.
Participate and devote your time to restoring the old town of Stone Town to bring back its original beauty and build a whole new world for future generations through environmental efforts. Other Eco-efforts include community centers and beach clean-ups, tree and seed planting, school gardening, and an environmental conservation awareness campaign for children and the community.
Climate change, global warming, and greenhouse effects are just a few of the major environmental issues and concerns that countries worldwide are dealing with. In fact, our only home is the environment around us, and everything in it keeps us alive. It helps us survive by providing us with food, water, air to breathe, shelter, and other necessities.
Tanzania has abundant natural resources and has prioritized protecting its rich biodiversity by protecting more than 32% of its land area, but it is not immune to massive deforestation and environmental degradation. Unfortunately, these deforested areas no longer support wildlife, resulting in biodiversity loss, and are vulnerable to soil erosion, pollution, and a variety of other factors.
Stonetown, on the other hand, is known for its rich history, culture, architecture, and street foods, with strong influences from Arab, Indian, Persian, and European influences. As a result, this is a must-see attraction for all tourists who are truly interested in the history and culture of the Zanzibar locals. Given these scenarios and the growing percentage of the tourism industry, we cannot deny its negative impacts, particularly on the environment. As a result, with this program, you will do your part for future citizens of the world while experiencing Tanzania in a unique way—by going back to nature! As a result, caring for the environment should be ingrained in us – and that is where your journey begins by seizing this opportunity.
This program works with a local school to encourage students to care about the environment. It is an excellent opportunity to educate them on the subject and advise them on how to interact appropriately with their surroundings. You will contribute your time to this campaign and sow the seeds of responsible global citizens. Additionally, by cleaning up the town's roads, coastal areas, and community centers, this program contributes to the betterment of the community. As a result, future generations will inherit a completely new world.
Finally, all are welcome to join this program, especially those working or studying in the forestry field, as this will be a great opportunity to work alongside real community members and exchange knowledge with them.
Your daily tasks will be a mix of activities that will vary depending on the weather and season. Meanwhile, your main roles will be, but are not limited to:
Participate in a clean-up campaign for roads, schools, and community centers.
Planting seeds and trees in school nurseries.
Take up gardening.
Water plants.
Prepared Lessons and Instructional Materials for the Conservation educational campaign;
Teach children at school and in the community about Environmental conservation, particularly marine and coastal conservation.
Contribute technologies and know-how to Environmental Conservation.
Help the community with its Environmental Programs.
Schedule
Monday to Wednesday
Breakfast
Community Centers, Schools, Roads, and the Coastal Clean Up Drive.
Lunch
Working in the tree nursery, tree planting activities, gardening, and watering plants at the town's local schools.
Dinner
Thursday
Breakfast
Community Centers, Schools, Roads, and a coastal cleanup drive
Lunch
Preparing Lessons about the environmental conservation awareness campaign.
Dinner
Friday
Breakfast
Environmental Conservation Awareness Campaign at Schools.
Lunch
Environmental Conservation Awareness Campaign at Schools.
Dinner
* This schedule can be changed and/or amended depending on weather conditions, local conditions and unforeseen circumstances.
Program
Prices
1 Week: 595 Euro / 635 US$
2 Weeks: 750 Euro / 795 US$
3 Weeks: 965 Euro / 1025 US$
4 Weeks: 1185 Euro / 1255 US$
+1 Week: 270 Euro / 295 US$
* The Culture Week, Teaching, Childcare & Construction projects have an extra cost of 70 Euro/ 80 US$ per week
** The Turtle Project has an extra fee of 330/ 355 US$ Euro per week

With us there are NO registration or administration fees!
Plus you can easily combine the different projects.
What's included:
Volunteer program
Accommodation
Meals
24/7 in-country support
In-country program orientation
Pre-departure support
Airport pick-up
Not included:
visa, flight, travel insurance, vaccinations, criminal background check, return trip to the airport, 5% international banking fee
Requirements to join:
– Participants need to be minimum 18 years old
– Participants under 16 need to join with a parent/guardian
– Participants aged 16 to 18 need to have parental consent
– Participants are required to provide a criminal background check (if unable to obtain a criminal background check, you can provide two character reference letters instead)
– Participants are required to have their own travel insurance
– You need to have completed the following vaccines: typhoid, tetanus, Rabies, Malaria, Hepatitis A, and Diphtheria
– You need to be able to speak and understand at least basic English
Fill out the online Application Form
We give you outcome within 48 hours
Book your program by paying a deposit
Frequently Asked Questions
Zanzibar
When should I start to apply?
It is best to apply as early as possible as we have limited placements available in our programs, especially during summer.
You can apply up to 1 year in the future to guarantee your placement.
We do however accept late applications up to 2 weeks before the start date, let us know and we will check the availability for you!
How long does the application process take?
Very fast with us! You fill out the application form, and we go to work for you within hours! For most placements, you will get an answer within 1-2 days.
Can I get a certificate after the program?
Yes, we will provide you with the Certificate after the successful completion of the program. This certificate is provided on request, so just let us know if you would like this!
How does my airport pickup work?
Your airport pick-up from the Abeid Amani Karume International Airport is included, and we will arrange this for you on Sunday.
If you would arrive earlier, then we have a meeting point for you in Ubud where we can pick you up.
Can I volunteer with a friend or a group?
Yes you can! We can organize your program together with a friend, just let us know this in the comment section on the application form.
We can also organize. a family trip or a group, jst contact us, and we will be happy to help you!
How many hours per day do I volunteer?
Volunteers usually work for about 4 to 6 hours a day depending on their program type, and there can also be extra preparation time.
You have the weekend off so you can explore the area, go traveling, or just chill and relax on weekends.
Any More Questions?
We're always here to help. Get in touch now!
Testimonial
Sarah Snook
A testimonial from Sarah Snook the famous Hollywood actress who joined our volunteer program.