Volunteer in
Zanzibar
Volunteer in Zanzibar with Abroad Escape! Embark on a remarkable trip with Abroad Escape and discover the wonders of Zanzibar through volunteering. Delve into an extraordinary chapter of your life by dedicating your time and skills as a volunteer in this captivating destination. Our exclusive volunteer programs in Zanzibar empower you to create your own personalized itinerary, engaging in profoundly meaningful projects that leave a lasting impact on the local community.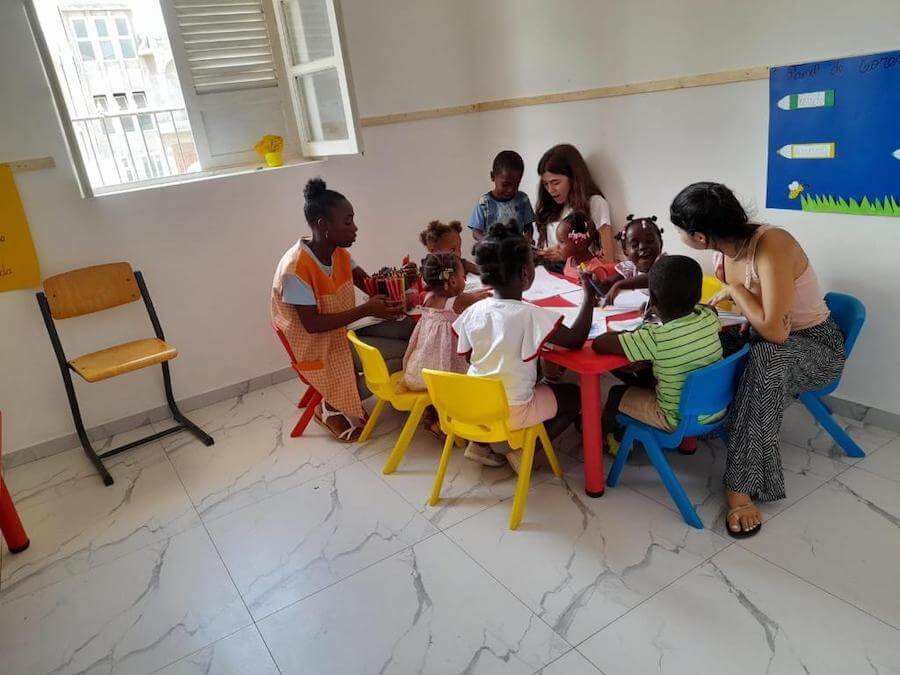 Create
Your Own Unique Schedule

In

Zanzibar

!
With the freedom to choose your own unique schedule as you want week by week. With us, you have the power to create your own tailor-made volunteer program that aligns with your passions and interests. You have the flexibility to start any Monday and stay for anywhere between one to twelve weeks.
If you are a passionate volunteer with a heart for nurturing young minds and an eagerness to transform lives in Zanzibar, then these programs are tailor-made for you. With a focus on early childhood education, these opportunities provide an ideal platform for you to channel your enthusiasm and create a positive impact on the lives of the little ones in this beautiful country.
Location: Stone Town & Nungwi, Zanzibar
Start Dates: Start every Monday
Duration: 1 week – 12 weeks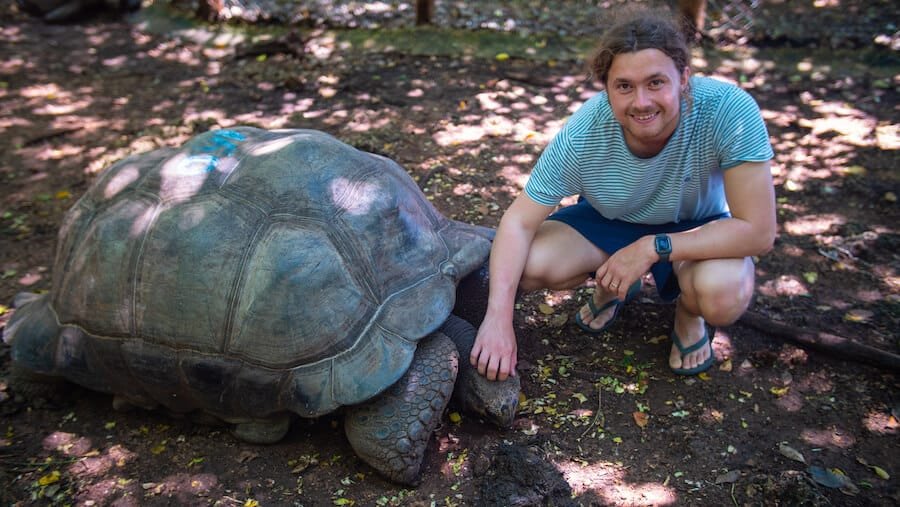 We are
Loved ♥️

by our Trusted Customers

The program was a great experience for me. The kids I taught were very smart and happy. They were very willing to learn which was amazing.
Kate from Australia
Your
Arrival
Get ready for a warm welcome to Zanzibar! Your adventure begins the moment you arrive, with our airport pick-up on Sunday. To ensure a smooth transition, we'll provide you with all the necessary arrival and contact details when you book your program. The local team will be waiting for you, ready to transfer you to your accommodation where you'll meet fellow volunteers from around the world.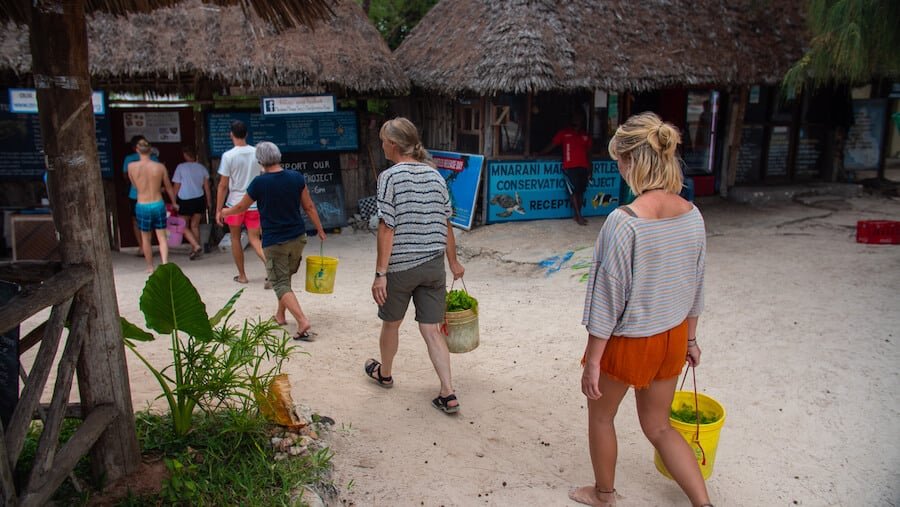 Your
Orientation
On Monday, our experienced coordinator will lead an exciting orientation session. This is your chance to get comfortable with your surroundings and dive into the local culture, while also receiving important health and safety advice.
During the orientation, you'll receive a comprehensive introduction to your program, accommodations, and the exciting projects that await. Plus, you'll learn all the do's and don'ts of local customs, giving you a head start on immersing yourself in the rich and vibrant culture of Zanzibar.
Your
 Accommodation
Your accommodation is included in your package from Sunday night until Saturday morning of your last week, so you can rest assured that you'll have a comfortable place to call home throughout your journey.
You'll be staying in shared rooms with other volunteers, giving you the perfect opportunity to make lifelong friends from around the globe. You'll be accommodated in single-gender dorm-style rooms, ensuring maximum comfort and privacy.
But that's not all – we've got your meals covered too! You'll enjoy three delicious meals per day from Monday to Friday, and two meals per day on weekends. Plus, if you're a vegetarian, no problem! We can vegetarian meals for you.
Zanzibar
Our projects in Zanzibar. You can choose which project you day week by week and create your own unique schedule in Zanzibar!
Culture Week
Embark on an extraordinary journey to the captivating island of Zanzibar, where a world of cultural riches, intricate history, and remarkable people awaits your exploration. Step foot on this remarkable island that has woven its vibrant tapestry into the fabric of Tanzania, leaving an indelible mark on the nation's identity.
As you immerse yourself in the unique wonders of Zanzibar, bask in the warm embrace of the tropical climate and the genuine hospitality of its local community. Uncover the hidden gems that lie within the narrow alleyways of Stone Town, a maze-like enclave that whispers stories of the past. Marvel at the graceful turtles of Prison Island and allow the captivating history and culture of Zanzibar to unfold before your eyes.
This immersive experience will grant you insight and appreciation for the island's renowned spices and its incomparable atmosphere. Zanzibar is a place where diverse worlds and cultures converge, creating a breathtaking mosaic adorned with African, Arabic, Asian, and European influences. While exploring Stone Town, you may find that the intricately carved doors hold a fascination of their own, offering a glimpse into a bygone era. Indulge in moments of tranquility as you relax on pristine beaches, caressed by the gentle rhythm of the ocean waves. And as the sun sets, allow the vibrant pulse of Zanzibar's nightlife to awaken your senses.
Prepare yourself for an enchanting sensory journey where the fragrant aromas, tantalizing tastes, captivating sights, and delightful touches of this remarkable place will transport you into a realm of pure wonder.
Schedule:
Monday
Begin your day with a nourishing breakfast
Embark on an orientation session to familiarize yourself with the surroundings
Engage in a Swahili language lesson, immersing yourself in the local dialect
Savor a delightful lunch
Embark on a walking tour, exploring the vibrant shops near your accommodation
Indulge in a flavorful dinner
Tuesday
Awaken to a delicious breakfast
Embark on a guided tour of Stone Town, delving into its rich history
Enjoy a fulfilling lunch
Immerse yourself in the vibrant atmosphere of the local market
Participate in a Swahili food cooking lesson
Relish a delectable dinner
Wednesday
Start your day with a scrumptious breakfast
Deepen your knowledge of the Swahili language with an engaging lesson
Savor a delightful lunch
Embark on a captivating Spice Farm experience
Visit a Swahili house, discovering the essence of local life
Embark on an unforgettable journey to Changuu island
Delight in a sumptuous dinner
Thursday
Rejuvenate with a nourishing breakfast
Embark on a village cycling tour, immersing yourself in local traditions and the practices of traditional healers
Savor a satisfying lunch
Participate in a Khanga Demonstration, unveiling the artistry behind this cultural garment
Discover the art of crafting coconut ropes and roofs
Unwind with a delightful dinner
Friday
Begin your day with a delightful breakfast
Immerse yourself in a full day of beach bliss
Enjoy a bag lunch provided for your convenience
Engage in souvenir and spice shopping, taking home a piece of Zanzibar's charm
Delight in a memorable dinner
Please note that this schedule is subject to change or modification based on weather conditions, local factors, and unforeseen circumstances.
Childcare
Immerse yourself in the vibrant educational landscape of Zanzibar, where you can share fundamental knowledge and make a meaningful impact at local kindergartens, childcare centers, and primary schools. By assisting dedicated teachers and staff, you will contribute to the growth and development of children in this enchanting island setting.
In this program, your role will involve supporting educators and nurturing the curious minds of children aged 3 to 6 years old across various kindergartens and primary schools in the captivating Stone Town area. Beyond imparting essential concepts such as basic English, numbers, and colors, you will actively engage in classroom supervision and design stimulating educational activities. From delightful drawing sessions to captivating sing-alongs, your creative contributions will enrich the learning experience of these young learners.
Within the context of Zanzibar, where the English language is widely taught, you have a unique opportunity to help children practice and refine their language skills, fostering their self-expression through storytelling, poetry, songs, and games. By empowering them with English proficiency, you are equipping them with a valuable tool that can significantly enhance their future prospects.
From Monday to Friday, you will dedicate 4 to 5 hours each day to this rewarding program, with breaks interspersed throughout. Mornings will commence with a nourishing breakfast at your accommodation, preparing you for a day filled with immersive learning activities. Engage the children in captivating educational endeavors, collaborating closely with the local teaching staff. Take advantage of the morning break to rejuvenate before diving back into the realm of creativity and learning. You will also lend a helping hand in serving lunch to the children, fostering a sense of community and care. Afterward, enjoy a satisfying lunch at the accommodation, followed by dedicated time to prepare lessons and activities for the upcoming day. In the afternoon, you will have some free time to unwind before relishing a wholesome dinner at your accommodation.
Please note that the provided schedule is subject to adjustments based on weather conditions, local requirements, and unforeseen circumstances. Flexibility and adaptability are key as we navigate this enriching journey together.
Teaching
Embark on a transformative journey where you become an agent of change, joining local teachers in Zanzibar to create a powerful learning environment for students. Recognize the immense value of teachers as they lay the foundation for education, propelling young minds forward. By lending your support, you will not only make an immeasurable impact, but you will also gain invaluable experiences in return.
In this awe-inspiring corner of the world, Zanzibar offers more than just tantalizing spices and beautiful beaches. It is a melting pot of cultures and traditions, where young people eagerly await the knowledge and insights you bring. As you embark on this incredible opportunity to assist local teachers and students, you become an integral part of their educational journey.
Through our strong partnerships with primary and secondary schools across Zanzibar, many of which are situated outside the bustling city areas, you will step into classrooms where your expertise is desperately needed. Subjects such as English, Math, and Science await your guidance and support. Embrace the power of music, using songs as a teaching tool, and engage the students in educational games. Take the lead in enriching activities like arts and crafts, sports, drawing, coloring, writing, and more.
Our teaching assistant program primarily caters to children aged 5 to 14 years (grades K-7). School hours typically span from 8:00 in the morning until 15:00 in the afternoon. As a participant, you will dedicate at least 4 hours per day to engage with the students, with breaks interspersed between class sessions. Occasionally, after-school activities may also be available. Take time to plan engaging lessons for the following day, ensuring a well-rounded learning experience for the students.
Feel free to bring teaching materials such as games, colored pencils, erasers, English language books, and even clothes and toys to donate. These contributions will be warmly welcomed and appreciated. Additionally, consider bringing pictures or small objects that represent your country of origin, offering an educational lesson that broadens the children's understanding of the world.
From Monday to Friday, your days will be structured to maximize your impact. Begin with a nourishing breakfast that energizes you for the day ahead. Embrace your role as an assistant to teachers and students, working hand in hand to create a dynamic learning environment. Take a well-deserved break for lunch, where you can recharge and connect with colleagues. Return to the classroom, offering your support until the end of the school day. Dedicate time to plan engaging lessons, ensuring the next day is filled with exciting educational experiences. Finally, savor a satisfying dinner, reflecting on the meaningful work accomplished.
Please note that the provided schedule is subject to adjustments based on weather conditions, local requirements, and unforeseen circumstances. Flexibility and adaptability are key as we navigate this incredible journey together.
Construction & Renovation
Join us in the noble endeavor of revitalizing local village schools, paving the way for improved learning conditions for students.
Our initiative is dedicated to supporting schools in and around the enchanting Stone Town in Zanzibar. By restoring and renovating their infrastructure, we aim to create an environment conducive to effective education. Moreover, we extend our assistance by providing essential learning facilities wherever they are needed. This comprehensive project encompasses various tasks, including renovating libraries, revamping playgrounds, repairing school furniture, and addressing any other areas requiring a helping hand.
By actively participating in this impactful social project, you have the power to make a tangible difference within the local community, offering invaluable support to the deserving students attending these schools. Your involvement will contribute to the establishment of a positive and nurturing learning environment, promoting academic excellence and personal growth.
Engaging in this project requires physical and manual labor, as we lay bricks, engage in carpentry, apply fresh coats of paint, lay tiles, and enhance the landscape through gardening and landscaping. Additionally, we may embark on renovating buildings, restoring and painting structures, repairing furniture, and fixing equipment. This holistic approach ensures that no aspect of school improvement is overlooked, providing an all-encompassing transformation.
However, our project extends beyond the realm of construction. It offers an artistic and relaxing dimension, where your creative ideas can flourish, adding beauty and charm to the school surroundings. Working alongside a knowledgeable local coordinator and a skilled foreman who provide guidance, you will experience the joy and satisfaction of supporting an initiative that celebrates creativity and community engagement.
From Monday to Friday, you will dedicate 4-5 hours each day to assist with the program placement, with breaks in between for rejuvenation. A typical day might unfold as follows: Begin with a nourishing breakfast at your accommodation, energizing yourself for the construction and renovation activities ahead. Engage in various tasks, applying your skills and dedication to enhance the school environment. Enjoy a refreshing break during the morning program, replenishing your energy for continued productivity. Resume your construction and renovation endeavors until lunchtime, where you can retreat to your accommodation for a well-deserved meal. Return to the site, working diligently until the day's end. Finally, savor your free time, indulging in personal relaxation or exploration, before coming together for a satisfying dinner at your accommodation.
Please note that the provided schedule remains flexible, subject to adjustments to accommodate weather conditions, local requirements, and unforeseen circumstances. Your adaptability and resilience will be vital as we navigate the dynamic nature of this endeavor, driven by our shared commitment to creating a lasting impact.
Sea Turtles Conservation
The existence of sea turtles, a species that has graced our planet for millions of years, is now at risk of extinction. Join a remarkable seaturtle conservation project dedicated to creating a safe haven where these majestic creatures can thrive. Each year, endangered seaturtles are released back into the ocean, and your involvement can make a meaningful contribution to their survival. Through a diverse range of activities, including monitoring water quality, maintaining juvenile nets, and more, you will play a vital role in safeguarding their future.
The plight of seaturtles is dire, and this conservation project stands as a beacon of hope in the face of their potential extinction. However, sustaining this crucial initiative is not without its challenges. The project relies on the support of dedicated individuals like yourself, who work alongside the 28 staff members to advance its mission. Your participation, combined with the financial contribution from your stay, fuels the project's ongoing efforts.
Each day commences with team collaboration after a satisfying breakfast. While the specific tasks may vary, the daily routine typically includes exchanging water in the basins, collecting sea weed, and cleaning the seaturtles. Additionally, maintenance work, measurements, and other cleaning duties are scheduled on different days. During a welcoming meeting upon your arrival, you will be introduced to the project's work and receive a detailed list of tasks. The project successfully raises over 150 seaturtles annually, and the lagoon houses around 30 larger turtles.
As a participant, you will engage in a variety of activities that contribute to the project's success:
– Exchanging water in basins and the Sea Turtle Hospital
– Checking water quality
– Conducting general cleaning
– Collecting sea weed in the Indian Ocean
– Filling tube feeders
– Cleaning adult turtles
– Assisting in the treatment of hospital turtles
– Cleaning the lagoon by removing leaves and plastic
– Participating in hatching and juvenile measurements
– Contributing to beach cleaning efforts
– Inspecting nets
– Maintaining juvenile nets
Throughout your stay, you will have the opportunity to learn and undertake all these different tasks, ensuring a comprehensive and immersive experience. The minimum duration of the program is two weeks, allowing for a more profound impact and understanding of the project's objectives.
Schedule:
Week 1
Sunday:
– Arrival in Zanzibar and transfer to your accommodation site for a comprehensive orientation program.
– Familiarize yourself with the local surroundings, including ATMs, convenience stores, and an overview of the program's guidelines.
– Explore the historical gem of Zanzibar, the captivating Stone Town.
Monday to Friday:
– Begin your rewarding journey in the morning from 08:00 to 14:00, working closely with a dedicated local coordinator.
– Engage in a wide range of conservation efforts aligned with your skill level and contribute to the project's mission.
Saturday:
– Embrace free time to venture within Zanzibar or Tanzania, embracing the breathtaking landscapes this African region offers.
Week 2
Sunday:
– Delight in free time to explore the scenic wonders of Zanzibar or Tanzania, deepening your connection with this captivating region.
Monday to Friday:
– Continue your dedicated efforts in the Sea Turtle project, allocating your mornings from 08:00 to 14:00 to work alongside the local coordinator.
– Embrace diverse tasks related to seaturtle conservation, utilizing your skills to make a meaningful impact.
Saturday:
– Transfer to ZNZ airport, concluding your transformative experience.
Please note that the provided schedule remains flexible, subject to adjustments based on weather conditions, local requirements, and unforeseen circumstances. Your adaptability and resilience will play a vital role as we navigate the dynamic nature of this project, united in our unwavering
Program
Prices
1 Week: 645 Euro
2 Weeks: 825 Euro
3 Weeks: 1075 Euro
4 Weeks: 1315 Euro
+1 Week: 345 Euro
* The Culture Week & Construction Project has an extra fee of 45 Euro per week
** The Turtle Project has an extra fee of 345 Euro per week

With us there are NO registration or administration fees!
Plus you can easily combine the different projects.
What's included:
Volunteer program
Accommodation
Meals
24/7 in-country support
In-country program orientation
Pre-departure support
Airport pick-up
Not included:
visa, flight, travel insurance, vaccinations, criminal background check, return trip to the airport, 5% international banking fee
Requirements to join:
– Participants need to be minimum 18 years old
– Participants under 16 need to join with a parent/guardian
– Participants aged 16 to 18 need to have parental consent
– Participants are required to provide a criminal background check (if unable to obtain a criminal background check, you can provide two character reference letters instead)
– Participants are required to have their own travel insurance
– You need to be able to speak and understand at least basic English
Testimonial
Sarah Snook
A testimonial from Sarah Snook the famous Hollywood actress who joined our volunteer program.