Volunteer in
Laos
Volunteer in Laos with Abroad Escape! Experience the adventure of a lifetime by becoming a volunteer in Laos. Our volunteer projects in Laos offer you the opportunity to create your own schedule in the most rewarding and impactful volunteering program in Luang Prabang, Laos.
JOIN FROM ONLY 555 EURO OR 595 US$
Create
Your Own Unique Schedule

 In Laos!
With the freedom to choose your own unique schedule as you want week by week. With us, you have the power to create your own tailor-made volunteer program that aligns with your passions and interests. You have the flexibility to start any Monday and stay for anywhere between one to twelve weeks.
If you are a passionate volunteer with a heart for nurturing young minds and an eagerness to transform lives in Laos, then these programs are tailor-made for you. With a focus on early childhood education, these opportunities provide an ideal platform for you to channel your enthusiasm and create a positive impact on the lives of the little ones in this beautiful country.
You can also join as a family or as a group. Contact us for more details.
Location: Luang Prabang, Laos
Start Dates: Start every Monday
Duration: 1 week – 12 weeks
Why Join With
Abroad Escape
Abroad Escape is committed to providing you with the highest-quality and most meaningful travel experiences possible. With our 133 international volunteer abroad projects and immersion internships in 21 countries, you'll have the chance to make a real impact in the lives of local communities. With our immersive volunteer programs, you'll have the chance to engage with local communities and make a real impact in the lives of those around you. But that's not all – you'll also be creating lifelong friendships with fellow international travelers who share your passion for travel and making a positive impact.
We are
Loved ♥️

by our Trusted Customers
The volunteering was mind expanding and rewarding. The local are the most friendly people I have met anywhere in the world.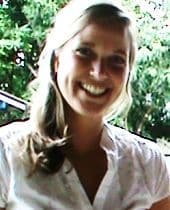 The program was good and the support from the coordinator was wonderful. These were the best 2 weeks ever, feeling helpful and special to be part of this program. I enjoyed every minute of it. Thanks!
I had a really nice time, I learned a lot about the culture and people. It was actually starting to feel like home. The people and children were very nice to me and I loved doing things with them. Thanks for a great time!
Your
Arrival
Get ready for a warm welcome to Luang Prabang, Laos! Your adventure begins the moment you arrive, with our airport pick-up on Sunday at the Luang Prabang Airport (LPQ). To ensure a smooth transition, we'll provide you with all the necessary arrival and contact details when you book your program. The local team will be waiting for you, ready to transfer you to your accommodation where you'll meet fellow volunteers from around the world.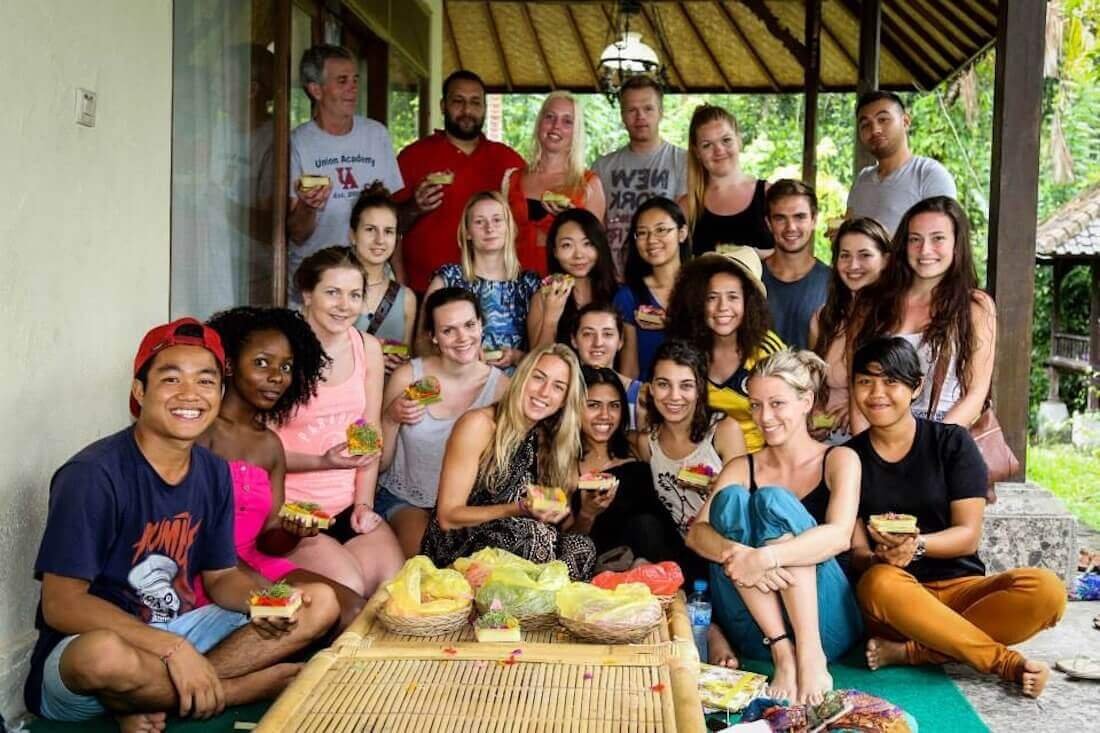 Your
Orientation
On Monday, our experienced coordinator will lead an exciting orientation session. This is your chance to get comfortable with your surroundings and dive into the local culture, while also receiving important health and safety advice.
During the orientation, you'll receive a comprehensive introduction to your program, accommodations, and the exciting projects that await. Plus, you'll learn all the do's and don'ts of local customs, giving you a head start on immersing yourself in the rich and vibrant culture of Luang Prabang.
Your
 Accommodation
Your accommodation is included in your package from Sunday night until Saturday morning of your last week, so you can rest assured that you'll have a comfortable place to call home throughout your journey.
You'll be staying in shared rooms with other volunteers, giving you the perfect opportunity to make lifelong friends from around the globe. And don't worry about gender issues, we've got that covered too! You'll be accommodated in single-gender dorm-style rooms, ensuring maximum comfort and privacy.
But that's not all – we've got your meals covered too! You'll enjoy three delicious meals per day from Monday to Friday, and two meals per day on weekends. Plus, if you're a vegetarian, no problem! We can vegetarian meals for you.
Laos
Programs
You can choose which project you day week by week and create your own unique schedule in Laos!
Cultural Experience
in Laos
Welcome to the land of a million elephants' kingdoms! Your journey in Laos doesn't just end with volunteering and teaching, it's just the beginning!
Get ready to experience the authentic Laos culture through various activities that will leave you mesmerized. Join hands with other participants from around the globe, as you take part in immersive culture lessons, city outings, exploring picturesque waterfalls, and much more!
Savor the taste of Laos through its scrumptious food, interact with friendly locals, and embrace unique traditions that you may not have experienced before. Explore hidden gems of Laos that are often overlooked by tourists, visit ancient temples, and immerse yourself in the local culture by engaging in various activities.
The adventure doesn't stop there! You'll have the opportunity to visit off-the-beaten-path places, hike through lush green jungles, and swim in crystal-clear waters. Get ready to create unforgettable memories that will last a lifetime!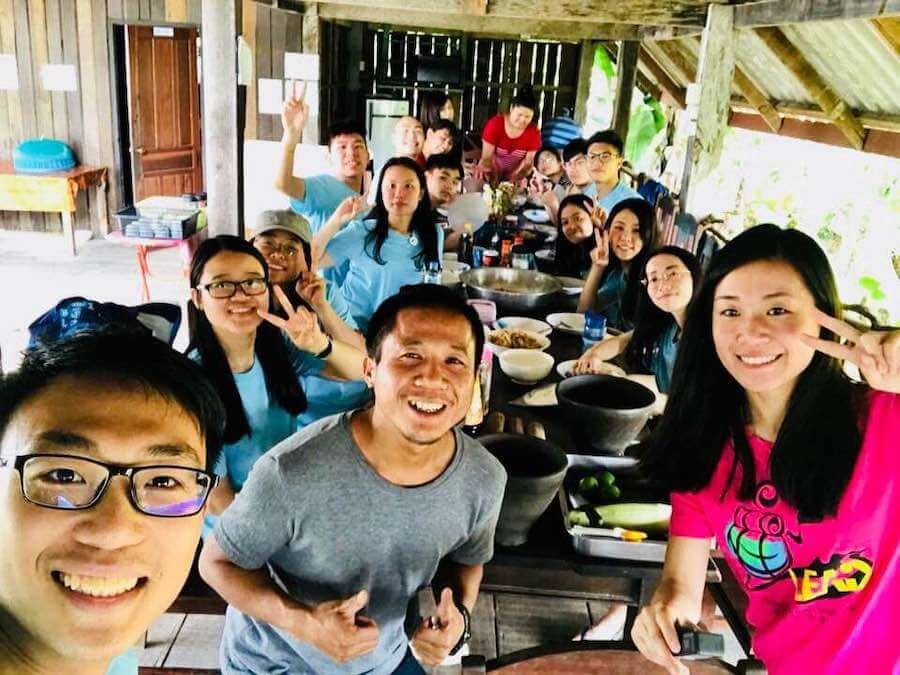 Get ready to fully immerse yourself in the culture of Laos during our exciting Culture Week!
Start off with an in-depth introduction to local customs, language classes, and more. Throughout the week, you'll have the opportunity to get your hands dirty with agriculture practices, learn traditional handcrafting techniques with the help of local artisans, and even try your hand at cooking local cuisine.
Take a refreshing dip in a stunning waterfall, explore bustling local markets, and discover the unique temples of the ancient city.
But that's not all! We want to make sure you have a truly unforgettable experience, so we've arranged a special visit to meet one of the local Laotian tribes, giving you a chance to connect with a different way of life.
And for something truly unique, we've even planned a visit to a bear conservation center. Get ready to make memories that will last a lifetime during our Culture Week in Laos!
Aims and Objectives
Join hands with us to make a meaningful impact in the lives of the local Laotian community. Get involved in various practical projects and help improve the community facilities while working in a team. Along the way, develop your teamwork skills, and foster long-lasting relationships with the locals, as you embark on a journey towards a more sustainable future. Together, let's make a positive change that will make a lasting difference.
Schedule
Join us for an exciting and immersive week of activities in Laos!
Monday
Breakfast
Introduction meeting
Briefing on Laotian Customs, rules and expectations, health and safety
Tour around the compound and local area
Lunch
Language lesson
Dinner
Tuesday
Breakfast
Visit the local village
Get yourself busy with handcrafting
Lunch
Flower offering at the local temple
Laotian cooking classes
Barbeque Dinner at the accommodation
Wednesday
Breakfast
Explore the world heritage city including an ancient historical temple
Visit the Laos local morning market
Visit a beautiful forest temple
Lunch
Take a dip in the famous Kuang Si waterfall
Visit bear Conservation
Explore the hill tribe village
Roam in the night market before heading back to the accommodation
Dinner
Thursday
Breakfast
Introduction and placement orientation
Lunch
Start working at the placement
Dinner
Friday
Breakfast
Visit the placement
Lunch
Project planning for the next week
Dinner
* This schedule can be changed and/or amended depending on weather conditions, local conditions and unforeseen circumstances.
Kindergarten
 in Laos
Embark on a fulfilling journey by lending a hand to the local kindergartens and imparting basic English skills to the little ones. In addition to sharing your knowledge, you will also get the chance to organize enjoyable activities and support the local staff. Engage in meaningful interactions with the community and learn about the rich culture of Laos through this heartwarming experience.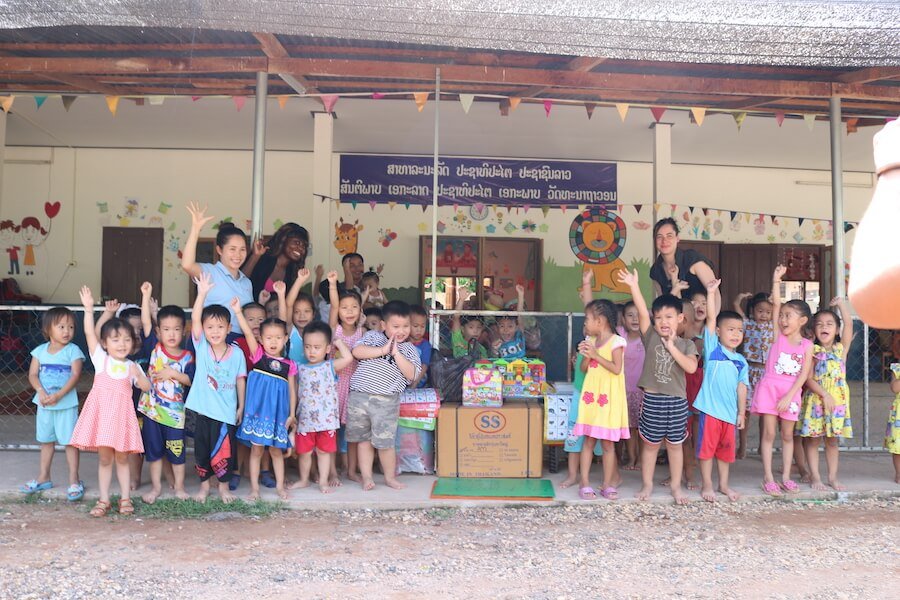 Get ready to make a difference in the lives of young children in Laos! By joining this program, you will help provide high-quality English language classes to these kids who might otherwise miss out on this essential skill. Your presence and involvement in the kindergarten will be invaluable in helping these children learn and grow.
Your duties will include feeding and playing with the children, organizing activities, and sometimes assisting with cleaning. You will be working with very young children who are eager to learn and interact with the world around them. Your gentle and kind approach will make it easier for them to feel comfortable and confident in communicating with adults.
Although it may be challenging at first, working with these shy but playful kids will be an incredibly rewarding experience. They will adore you and provide you with unforgettable memories that will last a lifetime! So, are you ready to make a difference in the lives of these bright young minds?
Aims and Objectives
Join our mission to make a difference in the lives of the little ones! By volunteering at this understaffed facility, you will not only help reduce the work burden on the local staff, but also gain invaluable experience and skills in working with preschool children. You'll have the opportunity to share your passion and creativity with the kids, make meaningful connections, and create lasting memories. This is a chance to grow personally and professionally while making a positive impact in the community. Come and join us in this rewarding journey!
Schedule
From Monday to Friday, you'll have the exciting opportunity to be a part of something truly special. Your day will start with a delicious breakfast to fuel your energy for the day ahead. Then, it's time for the most important part of your day – teaching and nurturing the young minds of our future. You'll have the chance to feed and care for the children, helping them grow and learn in a safe and supportive environment.
When it's time for the children to rest, it's your chance to enjoy a well-deserved break and refuel with lunch. But don't get too comfortable – before you know it, it's feeding time again! After that, it's time to let loose and have some fun with activities and games that will keep the children entertained and engaged. Finally, wind down and relax with a delicious dinner at our cozy and comfortable accommodation.
Each day is packed with opportunities to learn and grow as you make a positive impact on the lives of these amazing children. It's a truly rewarding experience that you won't soon forget!
* This schedule can be changed and/or amended depending on weather conditions, local conditions and unforeseen circumstances.
Teaching English
in Laos
Join us on an adventure that will allow you to unlock the potential of bright-eyed children in an ancient Laotian village through the power of language!
You will be teaching English classes at local primary schools in a fun and interactive way that includes engaging activities and games.
Be creative and make learning a joyous experience for your students. By sharing your knowledge, you will be equipping these young learners with valuable language skills that could change their lives for the better.
But that's not all – this is also an opportunity for you to immerse yourself in the local culture and connect with the children in a meaningful way. Who knows? They may end up teaching you something new in return, creating unforgettable memories that you will cherish for a lifetime.
So pack your bags and get ready to embark on a journey that will not only make a difference in the lives of these children but also in your own life. Come and join us in Laos and experience the magic of teaching English to the bright-eyed and eager students of this ancient village.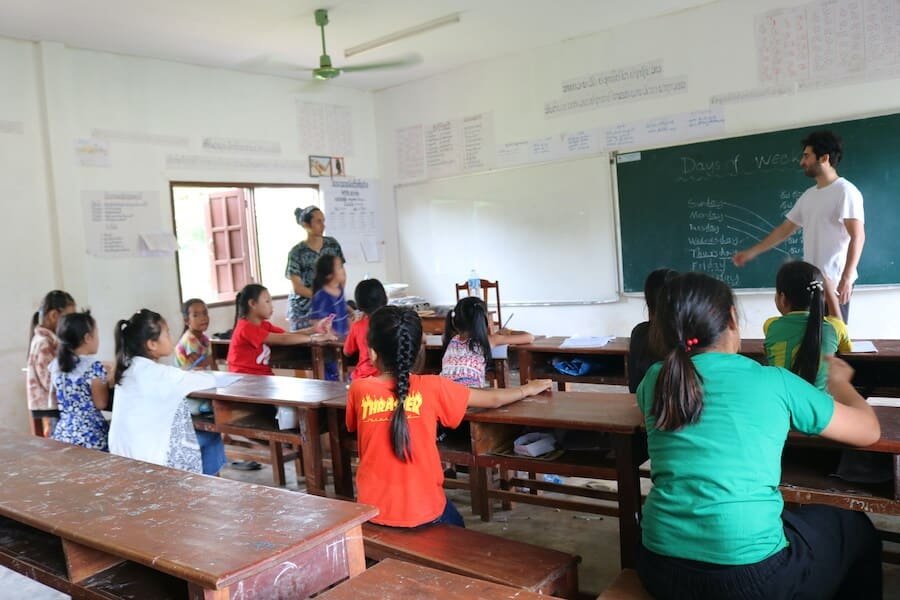 Welcome to our teaching program which will take you on a thrilling journey through various schools in Laos, with our primary placement being at a local public school in Luang Prabang.
Here, you will have the opportunity to teach English to enthusiastic students aged between 10 to 25 years old, in classrooms of approximately 15 – 20 students per class with one teacher.
The beauty of this program is that many schools in Laos are open to new concepts and teaching approaches, which means you can bring your unique ideas and teaching strategies to the table. You can develop a creative lesson plan that complements the local teaching style, helping the students to improve their English language skills and general knowledge.
Your classes will be fun and interactive, with different tactics like initiating discussions and asking the kids to share their ideas on various topics. This will not only encourage them to participate actively but also broaden their knowledge and perspective on diverse subjects.
With approximately 3-4 hours of teaching per day, you will have ample time to create your lesson plans in line with the English Curriculum. The best part of this project is that the students are excited to learn from you and have fun while doing it, making it a truly rewarding experience for both you and your students.
So, gear up for an unforgettable adventure of teaching and learning in Laos, where you can make a difference in the lives of local children while experiencing a unique and enriching cultural exchange.
Aims and Objectives
Get ready to embark on an exciting journey to improve the education of children in Laos through English language learning! As you teach English to these enthusiastic children, not only will you impart a valuable life skill to them, but you will also gain invaluable teaching experience that will serve you well throughout your life.
Our program's primary aim is to improve the quality of education in Laos, and you can play a crucial role in achieving that goal by lending a helping hand to the local school staff. With your assistance, you can provide the extra hands needed to ensure that the school runs smoothly, and the students receive the education they deserve.
This program offers you a unique opportunity to engage with the local community and learn about their culture while also making a meaningful impact on their lives. By teaching English to the children, you can empower them to achieve their goals and aspirations and contribute to the development of their community.
Schedule
Get ready for an action-packed week of English language teaching in Laos!
From Monday to Friday, your days will be filled with excitement and meaningful work.
Fuel up with a delicious breakfast before starting your day, and then dive right into the classroom where you will teach English to the local children. These eager students will be waiting for you with bright eyes and open minds, ready to soak up all the knowledge and skills you have to offer.
After a morning of teaching, it's time for a well-deserved break and lunchtime where you can recharge your batteries and refuel for the rest of the day. Then, it's back to the classroom for more English classes with the students, where you can continue to inspire and empower them.
Once classes are over for the day, you'll have some free time to prepare for the next day's lessons, where you can get creative and plan exciting activities and games for the students. And finally, end your day with a delicious dinner, where you can relax and unwind, reflecting on the impact you made in the classroom that day.
Overall, this schedule offers the perfect balance between work and play, where you can make a meaningful impact on the students' education while also enjoying some downtime to relax and explore the beautiful surroundings of Laos.
* This schedule can be changed and/or amended depending on weather conditions, local conditions and unforeseen circumstances.
Construction & Renovation Project
 in Laos
Are you ready to immerse yourself in the rich history of Laos and make a lasting impact on the community? This project is perfect for those who aren't afraid to roll up their sleeves and get their hands dirty!
You'll have the opportunity to construct and renovate temples, schools, and other important community buildings that are in dire need of some TLC. By joining this program, you'll play a crucial role in the revitalization of this ancient city, and leave a lasting legacy that will be felt for generations to come.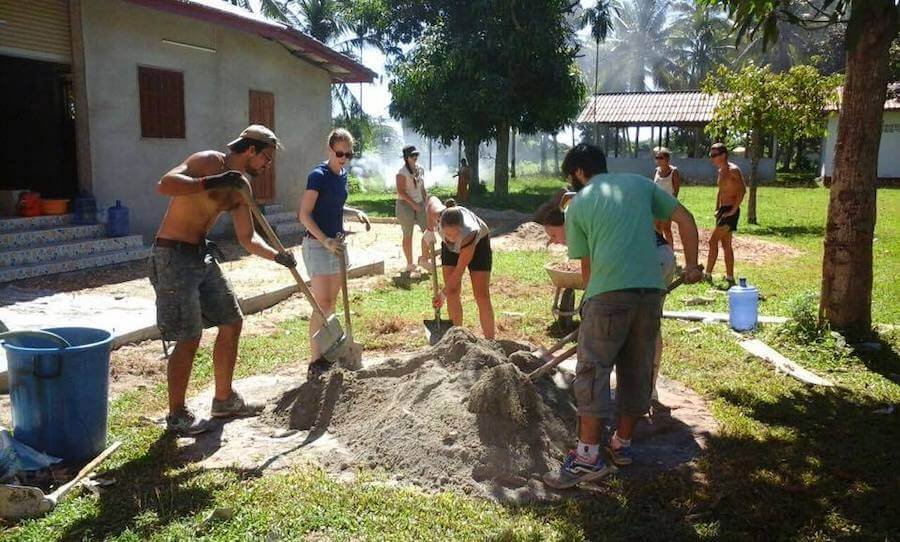 Are you ready to roll up your sleeves and dive into a fulfilling project that will directly impact the lives of young children in Laos? By supporting our team with rebuilding and renovating the bathrooms in local schools and kindergartens, you'll play an important role in improving hygiene and creating a healthy environment for students to learn and grow.
But that's not all – this program is all about improving infrastructure throughout the community. From painting and renovating walls in schools and temples to repairing furniture and improving roads, your efforts will leave a lasting impact on the entire area.
Working alongside locals towards a common goal is a truly rewarding experience, and you'll have the chance to learn firsthand about the hard work and dedication of the Laotian people in keeping their community and environment clean.
Aims and Objectives
Join us on a mission to transform the facilities of a local Laotian community and unlock your full potential as a team player!
Our primary objective is to improve the infrastructure of this community, and we're looking for passionate individuals who are eager to make a meaningful impact through practical work.
Not only will you have the opportunity to develop your teamwork skills by working alongside locals and fellow volunteers, but you'll also be able to witness firsthand the positive impact of your efforts.
Whether you're renovating buildings, improving roads, or enhancing community spaces, every project you take on will bring you one step closer to achieving our shared goal.
So come ready to work hard, learn new skills, and make a real difference in the lives of the people you meet. This is your chance to be part of something truly special and create lasting memories that will stay with you long after you leave.
Schedule
Get ready to jump into a fulfilling routine from Monday to Friday that will have you energized and focused on making a difference!
Your day will kick off with a delicious breakfast that will fuel you up for the tasks ahead.
Next up, it's time to get to work! You'll spend your mornings and afternoons at your placement, making a tangible impact on the community through your efforts. Whether you're building, renovating, or enhancing community spaces, your hard work will be felt by all those around you.
Of course, we know that all that hard work requires some nourishment! That's why we'll break for a delicious lunch mid-day, giving you the chance to refuel and recharge.
After lunch, it's back to work, with more opportunities to contribute to the community and work alongside locals and fellow volunteers. And when the day's work is done, you'll sit down to a satisfying dinner that will help you unwind and get ready for another fulfilling day.
This routine may be simple, but it's packed with opportunities to grow, learn, and make a real impact. Are you ready to join us and start your journey?
* This schedule can be changed and/or amended depending on weather conditions, local conditions and unforeseen circumstances.
Adventure Week
 in Laos
Explore Laos in a fun packed week where we take you to some of the must visit places and experiences in Laos. This week includes a slow boat cruise and two days Trekking and visiting a hill tribe village and to explore Rice framing Living land and Mekong River Sunset Boat cruising and more. Enjoy the adventure of a lifetime in Laos with us.
Our adventure begins with a morning trip departing from our accommodation between 8:00 to 8:30. We'll hop on a longtail boat and embark on the mighty Mekong River, witnessing the rural beauty of Laos, passing by local villages, fishermen, and children, immersing ourselves in the scenes of daily riverside life.
Our first stop is at Ban Xang Hai, also known as the Whisky Village, where we'll witness the process of making Lao Lao, the country's beloved rice whiskey, and indulge in local delicacies. We'll then continue our leisurely boat ride along the Mekong River to the Pak Ou Caves, limestone caves that have served as places of worship for centuries, filled with Buddhist statues and idols. Our knowledgeable guide will share legends and stories about the caves as we explore.
After the boat tour, we'll head to the magnificent Kuang Si Waterfall, where you'll have time to explore the three-tiered waterfall, walk the nature reserve trails, take a refreshing swim in the turquoise pools, and even visit the bear rescue center. On our way back to Luang Prabang, we'll make a stop at Ban Na Uan Hmong village, giving you the opportunity to experience Hmong village life, meet locals, and witness traditional embroidery crafts.
The next day, we'll embark on a two-day trekking adventure, starting with a transportation service pick-up between 9:00 AM – 10:00 AM. We'll head south to the Xiengngern district, visiting the Lao Loum, Khmu, and Hmong ethnic groups. Each group has a rich history and unique way of life, offering a fascinating glimpse into their cultures. We'll have a picnic lunch in the mountainous region and resume our trek, ending the day with a homestay experience, enjoying dinner and joining a local Basi ceremony.
On the third day, we'll return to Luang Prabang in the morning, giving you some time to relax before the Luang Prabang Stories Telling session in the evening. The captivating storytelling session, accompanied by live music from a Lao Khaen, a bamboo mouth organ, will unveil the tales and legends that shape Luang Prabang's history.
Thursday is dedicated to exploring the rice farming traditions of Laos. We'll visit a Living Rice Farm, where you'll learn about rice cultivation, experience life as a farmer, and try your hand at various activities. You can also relax on the balcony of a traditional Lao rice house, surrounded by rice terraces and organic vegetable farms. Afterward, we'll enjoy a Lao specialty lunch and end the day with a Mekong River Sunset Boat Cruise, witnessing the enchanting colors of the setting sun.
Finally, on Friday, we'll embark on a kayaking adventure to Tad Sae waterfall, paddling along the Nam Khan River, enjoying the picturesque views of Luang Prabang's countryside. We'll encounter challenging rapids before reaching the stunning Tad Sae Waterfall, where we can swim in the natural pools and immerse ourselves in the breathtaking surroundings. A Lao local picnic lunch will be provided along the scenic Nam Khan River. We'll continue kayaking through more rapids before concluding our day trip in Ban Noon village and returning to the city in the late afternoon.
In addition, during outdoor activities, in order to make sure of your safety and security, you need to keep the following considerations and requirements while taking this spectacular experience. You are expected to be on time, follow all the instructions of your local coordinator and local tour guides, be attentive of your personal belongings and valuables, be more mindful of the marine and other jungle environment and use environmentally friendly sunblocks and sunscreen.It is also advised to bring extra cash and your container bottled water at all times.
Moreover, if you have medical conditions, just inform us in advance in order to take necessary precautions and measures. However, alcohol consumption is strictly prohibited during your program schedules particularly during the outdoor activities. Moreover, there are a lot of active outdoor activities in these programs, thus, it is advisable to make sure that you are Medically and Physically Fit to move around and swim as there are swimming and trekking activities.
Finally, Join us for this incredible itinerary packed with unforgettable experiences, immersing you in the natural beauty, culture, and traditions of Luang Prabang and enjoy and make the most of your stay and make memorable learning experiences.
Schedule
Monday
One day a slow boat cruise to the Buddha Cave and Kuang Si waterfall.
The morning trip will leave our accommodation between 8:00 to 8:30. Go straight to the pier for the departure of the longtail boat trip and embark on the mighty Mekong. Enjoy the many views from the water, witness rural Laos, pass by local villages, fishermen, and children and soak up the scenes of daily life by the river
In the first little over an hour, the boat makes its first short stop at the Ban Xang Hai, also known as the Whisky Village. Here you see the process of making Lao Lao, the country's beloved rice whiskey, and taste the fresh local delights. Why not pick up a couple of bottles for later?
The boat will take you slowly along the Mekong River to Pak Ou Caves. We arrive at a small boat landing rock where stairs lead you straight to the cave. These limestone caves have been places of worship for thousands of years, and Buddhist statues and idols have filled these natural caves. Hear legends and stories about the caves from your guide and explore the caves.
At 12:30 PM After the boat tour, we are heading to the Kuang Si Waterfall and also during this trip will have a chance to visit the wildlife at the bear conservation center.
At the second destination you will have time to explore the three layered Kuang Si Waterfall, walk the trails of the nature reserve and swim in the refreshing turquoise water pools and visit the bear rescue center.Our way back into Luang Prabang we make a stop at Ban Na Uan hmong village where you have the chance to experience Hmong village life, meet some of the local people and see the makings of their traditional embroidery crafts. From here it is time to make our way into town, typically this is between 5:30pm – 6:00pm – drop off at our location.
After dinner, an orientation will take place that includes briefing on Laotian Customs, rules and expectations, health and safety and basic Language Lessons.
Tuesday
Two days Trekking visit a hill tribe village, and the LunagPrabang stories Telling.
Your tour experience begins with a transportation service pick up from your accommodation between 9:00 AM – 10:00 AM, we head off our way Road 13th south to Xiengngern district.
Our Trekking will first visit the three ethnic groups: the Lao Loum, Khmu, and Hmong. The history and lives of each of these groups are rich and remarkably different from each other and from your own. You will have an opportunity to explore these local cultures there.
After a visit to the village of the Khmu people along the way for a picnic lunch on the top of the mountain, then resume the trek in the afternoon and head to the waterfall.
The time spent at the waterfalls is about 1-2 hours in each case. There is a main area with a park-like trail and a more natural area in the back, both of which are open for bathing. After the waterfall, we will return to our home stay with the family at 4::30-5:30 PM.
Dinner will be provided after joining the Lao local Basi ceremony with the family and enjoy the time with your family night.
Wednesday
Second day trip after 9:30-10:30 we are returning back to the town Luach time at our accommodation and have half a day for some breaks before our LuangPrabang stories begin at 6:30-7:30PM.
The storytelling presents a selection of folk tales and legends which together tell the story of LuangPrabang. The story is told in English with the live musical accompaniment of Lao Khaen- a hand made bamboo mouth organ.
Thursday
One Day Rice framing Living land and Mekong River Sunset Boat cruising
At 8:00 AM, we drive to Ban Phong Van about 5 km, among lush rice fields and overlooked by wooded hills and mountains to join in a Living Rice Farm where they grow organic vegetables, salads, herbs and rice and supply leading restaurants and hotels in Luang Prabang. Coming here you will be shown how rice is grown on the farm, experience the life of a farmer and try your hand at some of the activities. Or just view it all from the comfort of the traditional Lao rice house balcony, which is surrounded by rice terraces and organic vegetable farms.
All the family can join in and there are great photo opportunities. After experiencing the farm, we enjoy Lao specialty lunch in a separate area overlooking their rice fields. We taste typical Lao dishes.
The second trip begins at 4:30-6:30 PM by the Mekong River Sunset cruising, hangout on the boat with a drink and enjoy a beautiful view of Luangprabang city and feast your eyes on the changing colors of Sunset over the Mekong River.
Friday
One day Kayaking to the Tad Sae waterfall and Lao picnic on Nam Khan River
Our trip begins at 9:00 AM driving on Road 13 south to Ban Xianlong village. From there, we started kayaking on the Nam Khan River for about 1 and half hours on the stream down to the Sae Waterfall.The Nam Khan river valley will provide us panoramic views of Luang Prabang countryside. We will enjoy challenging rapid currents for one hour until reaching Tad Sae Waterfall.
Each rainy season these falls erupt with life as the extra water from the mountains plunge over the flat rocks. The natural pools at the base of the waterfall are a must for a swim. We will have a break and swim for about one and half hours in Tad Sae.
Lunch time is provided as a Lao local Picnic along the beautiful scenery of Nam Khan River 12:30-1:30 PM.
And then after Lunch We will try more challenging rapid currents for 2 and half hours before ending the day trip Reaching Ban Noon village, then we go back to the city at 4:30-5:00 PM
This program starts on the third Monday of every month.
* This schedule can be changed and/or amended depending on weather conditions, local conditions and unforeseen circumstances.
Program
Prices
1 Week: 555 Euro / 595 US$
2 Weeks: 685 Euro / 745 US$
3 Weeks: 875 Euro / 945 US$
4 Weeks: 1065 Euro / 1140 US$
+1 Week: 235 Euro / 265 US$
The Adventure Week costs 745 Euro / 805 US$ 
* Culture Week & Construction has an extra fee of 75 Euro/85 US$ per week
With us there are NO registration or administration fees!
Plus you can easily combine the different projects.
What's included:
Volunteer program
Accommodation
Meals
24/7 in-country support
In-country program orientation
Pre-departure support
Airport pick-up
Not included:
visa, flight, travel insurance, vaccinations, criminal background check, return trip to the airport, 5% international banking fee
Requirements to join:
– Participants need to be minimum 18 years old
– Participants under 16 need to join with a parent/guardian
– Participants aged 16 to 18 need to have parental consent
– Participants are required to provide a criminal background check (if unable to obtain a criminal background check, you can provide two character reference letters instead)
– Participants are required to have their own travel insurance
– You need to be able to speak and understand at least basic English
Testimonial
Sarah Snook
A testimonial from Sarah Snook the famous Hollywood actress who joined our volunteer program.