Volunteer in
Vietnam
Volunteer in Vietnam with Abroad Escape! Embark on an extraordinary trip with Abroad Escape and immerse yourself in vibrant Vietnam as a volunteer. Our volunteer programs in Vietnam offer you the opportunity to create your own schedule in the most rewarding and impactful volunteering projects in Ho Chi Minh City (Saigon). Also, take a look at our internships in Vietnam, click here.
Create
Your Own Unique Schedule

In Vietnam!
With the freedom to choose your own unique schedule as you want week by week. With us, you have the power to create your own tailor-made volunteer program that aligns with your passions and interests. You have the flexibility to start any Monday and stay for anywhere between one to twelve weeks.
If you are a passionate volunteer with a heart for nurturing young minds and an eagerness to transform lives in Vietnam, then these programs are tailor-made for you. With a focus on early childhood education, these opportunities provide an ideal platform for you to channel your enthusiasm and create a positive impact on the lives of the little ones in this beautiful country.
You can also join as a family or as a group. Contact us for more details.
Location: Ho Chi Minh City, Vietnam
Start Dates: Start every Monday
Duration: 1 week – 12 weeks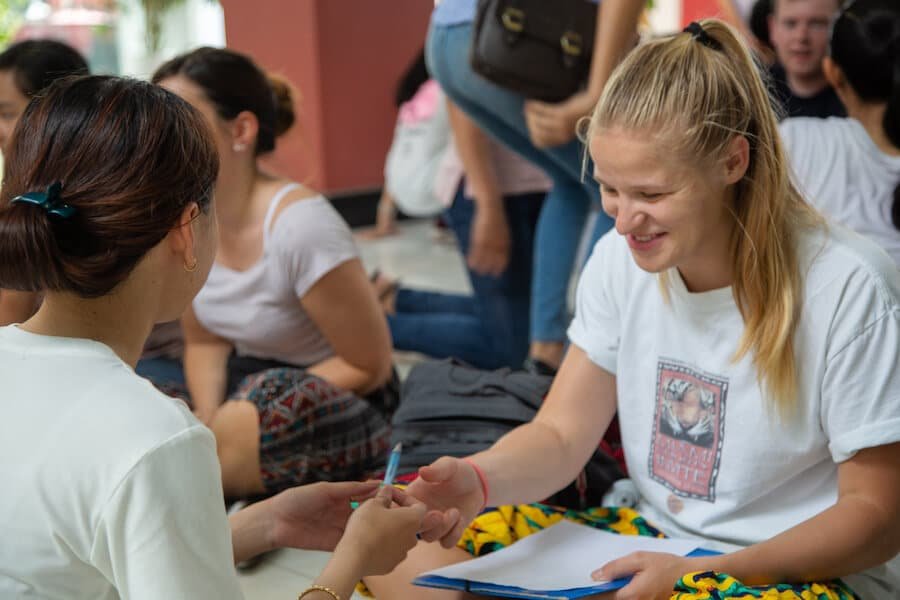 We are
Loved ♥️

by our Trusted Customers


I volunteered with Abroad Escape, which was definitely the best trip and the best experience of my life!


The program was a great experience for me. The kids I taught were very smart and happy. They were very willing to learn which was amazing.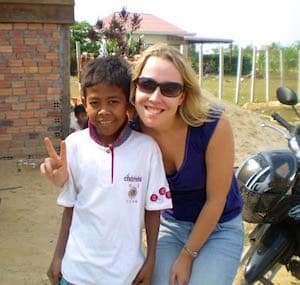 I had an amazing time in volunteering. I was happy with the whole experience and would love to go back in the future!
Your
Arrival
Get ready for a warm welcome to Vietnam! Your adventure begins the moment you arrive, with our airport pick-up on Sunday at Tan Son Nhat International Airport.
To ensure a smooth transition, we'll provide you with all the necessary arrival and contact details when you book your program. The local team will be waiting for you, ready to transfer you to your accommodation where you'll meet fellow volunteers from around the world.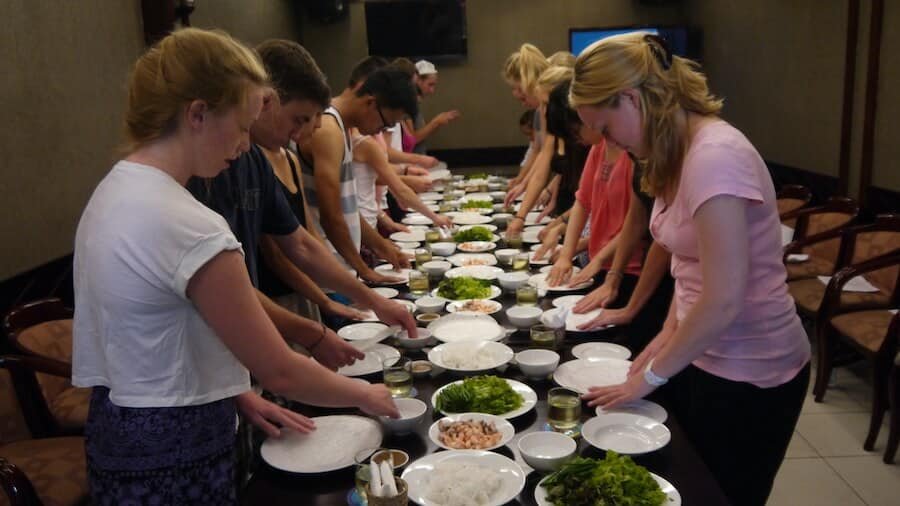 Your
Orientation
On Monday, our experienced coordinator will lead an exciting orientation session. This is your chance to get comfortable with your surroundings and dive into the local culture, while also receiving important health and safety advice.
During the orientation, you'll receive a comprehensive introduction to your program, accommodations, and the exciting projects that await. Plus, you'll learn all the do's and don'ts of local customs, giving you a head start on immersing yourself in the rich and vibrant culture of Vietnam.
Your
 Accommodation
Your accommodation is included in your package from Sunday night until Saturday morning of your last week, so you can rest assured that you'll have a comfortable place to call home throughout your journey.
The accommodation is located on a campus in a college. You'll be staying in shared rooms with other volunteers, giving you the perfect opportunity to make lifelong friends from around the globe. You'll be accommodated in single-gender dorm-style rooms, ensuring maximum comfort and privacy.
If you want to have a single room, then this is available at an extra cost. There is limited availability for single rooms so please contact us for this.
But that's not all – we've got your meals covered too! You'll enjoy three delicious meals per day from Monday to Friday, and two meals per day on weekends. Plus, if you're a vegetarian, no problem! We can vegetarian meals for you.
Ho Chi Minh City
Our projects in Vietnam. You can choose which project you day week by week and create your own unique schedule in Vietnam!
Culture Week
Join us for an exhilarating week brimming with Vietnamese culture, blending the essence of both the contemporary and historic. Prepare to embark on a captivating journey as we explore historic monuments, engage in enriching workshops, and much more!
Immerse yourself in the vibrant tapestry of Ho Chi Minh City, gaining a profound understanding of its captivating past and thriving present. Throughout this week, you'll gain unique insights into the customs and culture of Vietnam, forging meaningful connections with fellow participants along the way. Prepare to be captivated as we visit the magnificent historic landmarks of Ho Chi Minh City, formerly known as Saigon. Uncover the untold stories of the Vietnam War with visits to the War Museum and the renowned Cu Chi tunnel complex.
Our sightseeing and exploration will be complemented by immersive classes on Vietnamese customs, cooking, and language, ensuring a comprehensive and authentic Vietnam experience. Let's delve into the meticulously planned schedule:
Monday:
We begin the day with a team meeting, providing an opportunity to acquaint ourselves with the projects at hand, handle essential documents, and more. Engage in invigorating Vietnamese language lessons, where you'll learn the intricacies of the local tongue, as well as insightful sessions on Vietnamese do's and don'ts, enabling you to navigate the culture with grace. Before indulging in a delightful lunch, we'll treat you to a guided tour of the campus and its surroundings, pointing out convenient facilities like ATMs and supermarkets. In the afternoon, join us for exciting activities alongside local students, fostering intercultural exchange and creating cherished memories.
Tuesday:
Awaken to a day filled with iconic destinations in Ho Chi Minh City. We'll visit the awe-inspiring Reunification Palace, once the residence and workplace of the South Vietnamese President during the Vietnam War and the symbolic site of the war's end when an Army tank breached its gates. Additionally, we'll explore the architectural wonders of the Notre Dame Cathedral and the historic Centre Post Office. Prepare to be spellbound by the mesmerizing atmosphere of the Jade Emperor Pagoda, a temple that houses various halls and rooms dedicated to specific deities. Marvel at the exquisite statues of ethereal divinities such as the "Lord of Hell," the "Goddesses of Health and Fertility," and the "Buddha of the Future." In the afternoon, we'll pay a visit to the War Remnants Museum, an integral part of the nation's recent history, followed by a lively excursion to the bustling Ben Thanh Market.
Wednesday:
Savor the morning as you embark on a culinary adventure, delving into the art of Vietnamese cuisine. Discover the secrets behind delectable local dishes as you try your hand at cooking authentic Vietnamese food. In the afternoon, unleash your creativity during a bracelet-making session, fostering a sense of artistic expression. To add to the excitement, we'll explore the vibrant Can Cu markets, conveniently located near our accommodation.
Thursday:
Prepare for an immersive full-day excursion to one of the city's most historically significant sites: the renowned Cu Chi Tunnel system. Delve into the hidden labyrinth that once served as hiding spots, hospitals, and storage for food and weapons, even providing shelter for numerous North Vietnamese fighters. Uncover the untold stories of resilience and ingenuity embedded within this remarkable underground network.
Friday:
Today marks an exciting milestone as we finally embark on our project site. Following introductions and orientation to the project, you will actively participate, contributing your skills and passion to make a difference.
Please note that our schedule is subject to change or adjustment based on weather conditions, local circumstances, and unforeseen events. Rest assured, we are committed to ensuring a seamless and unforgettable experience for all participants.
Join us on this extraordinary cultural week, where every moment is a stepping stone toward personal growth,
Kindergarten
Embrace the fulfilling role of a compassionate caretaker at a local kindergarten in Ho Chi Minh City, where you can make a positive impact on the lives of young children. Let your boundless energy and nurturing spirit shine as you engage with children aged 3 to 6, fostering their growth through play, music, and basic English instruction.
Your invaluable assistance will support the devoted teaching staff as they cater to the needs of the community. At this well-organized kindergarten, you will work alongside the teachers in one of the four classrooms, aiding them with daily tasks and ensuring a smooth operation. With class sizes ranging from 10 to 15 children, you'll have the opportunity to provide individualized attention and care.
Mornings will commence with gathering the children, where you'll engage them in delightful games and perhaps even sing joyous songs in the schoolyard. Guiding them to their respective classrooms, you'll embark on an enriching journey of learning and discovery. Through various engaging activities, you'll have the chance to teach English and assist the children in developing their writing skills. Whether through melodic tunes, rhythmic dances, or interactive games, you'll employ creative and enjoyable methods to foster their learning and growth.
Lunchtime will be a collaborative effort, as you assist in serving meals, helping the children with their food, and maintaining a clean and organized eating area. After the nourishing meal, you'll provide gentle guidance in preparing the children for their naptime, ensuring a peaceful and restful break.
The afternoon will be filled with exciting activities and continued learning, commencing at 14:00 and concluding at 17:00, when the children are joyfully reunited with their parents. Weather permitting, some of these activities may take place outdoors, granting the children ample space to run, play, and explore.
Here's an overview of your rewarding daily schedule, Monday to Friday:
– Breakfast
– Morning Session (7:30 – 11:30): Engage in creative and educational activities with the children, fostering their development and curiosity.
– Prepare children and eating area for lunch, contributing to a harmonious dining experience.
– Assist with cleanup and guide the children to their naptime, ensuring a peaceful rest period.
– Lunch: Collaborate in serving and supporting the children during their mealtime.
– Afternoon Session (14:00 – 17:00): Dive into a world of creativity and learning, engaging with the children through various stimulating activities.
– Dinner
Please note that this schedule is subject to adjustments based on weather conditions, local circumstances, and unforeseen events. Flexibility is key in ensuring a dynamic and enriching experience for all involved.
Join us on this heartwarming journey of nurturing young minds, as together, we create a brighter future for these children and inspire a love for learning.
Teaching
Embark on a unique teaching journey that offers a fresh twist! Channel your advanced English skills to guide students your own age, fostering a two-way learning process that nurtures cultural exchange and personal growth.
As an English mentor, you'll have the opportunity to help fellow students enhance their vocabulary, spelling, pronunciation, and overall English proficiency. Your peers, primarily nursing and business students aged 19 to 25, will benefit from your expertise in a mutually advantageous dynamic that encompasses both learning and cultural exploration.
Your role as a mentor will unfold within the inspiring setting of Bach Viet College, where nursing and business administration take center stage. Together, we'll engage in interactive teaching methods, such as re-enactments, real-life scenarios, and immersive communication. Your advanced or native level of English will serve as the catalyst to propel your peers' language skills forward.
Each class spans a total of two hours and will be facilitated by a lead participant mentor, providing everyone with an opportunity to take charge of a lesson. At the beginning of each session, the lead mentor will allocate 30 minutes to review previous lessons and provide a preview of the day's topic. Subsequently, students will be divided into small groups, with each participant mentoring one group.
To ensure the success of this endeavor, you'll collaborate with fellow participants in creating a teaching plan, utilizing the provided teaching manual as a valuable resource. Regular attendance in classes and maximum interaction with students throughout the day will be crucial. Rest assured, your evenings and weekends will offer ample free time to spend with the friends you make during this remarkable experience.
The students at Bach Viet College possess an unwavering eagerness to refine their English skills and warmly embrace individuals from different cultures. They are excited to share their way of life and welcome you into their vibrant community.
Let's delve into the schedule, starting with Monday:
On your introduction day at the college, you'll be familiarized with the campus in the morning, gaining insights into the core programs offered at Bach Viet College, with a particular emphasis on nursing and business administration. In the afternoon, you'll immerse yourself in the classroom environment, gauging your level of involvement in English teaching. This could range from serving as a classroom assistant to taking the lead as a teacher.
From Tuesday to Friday, you'll be fully engaged in the college's regular activities, embracing the rewarding experience of mentoring your peers and igniting their passion for English language acquisition.
Please note that this schedule is subject to adjustments based on weather conditions, local circumstances, and unforeseen events, ensuring flexibility and adaptability for an optimal experience.
During school holidays, this program is replaced by an English camp, providing an exciting and dynamic platform to continue fostering language skills and cultural exchange.
Embark on this extraordinary teaching adventure, where your guidance and mentorship will empower students, foster cultural understanding, and leave a lasting impact. Together, we'll create an inspiring and transformative environment that transcends borders and cultivates lifelong connections.
Soup Kitchen
Join us in making a difference as we support an extraordinary food shop dedicated to providing low-cost, nutritious meals to vulnerable locals in need. Your involvement in this impactful program will involve food preparation, serving, and clean-up, as we work together to bring smiles and affordable hot meals to those who rely on this invaluable service.
At The Smile Food Shop, you'll be part of a remarkable initiative established in 2012. This NGO-run establishment, powered by the passion of local individuals, offers lunches priced at a mere 2000 VND (approximately 10 cents) per meal. Your contribution to this endeavor will be immensely appreciated, as we strive to make a positive impact on the lives of the community we serve.
Through your efforts, you'll assist in the preparation and service of meals for a diverse group of approximately 500 individuals, including the elderly, local workers, persons with disabilities, students, and children. Each day, they rely on these affordable, well-prepared, and quality meals, and your presence will ensure their continued access to nourishment.
Undoubtedly, this program will present you with challenges, engagement, and moments of exhaustion. However, it will also provide you with some of the most rewarding and fulfilling experiences you have ever encountered. Every minute spent making a difference at The Smile Food Shop will be cherished and etched in your memory.
Please note that the Food Shop program remains operational even when the NGO facility is closed, including during the month-long closure around the Tet Holiday. During these periods, participants like yourself will prepare food on-site at our accommodation kitchen. These meals will then be distributed to patients and local workers at a nearby hospital, ensuring that no one is left without sustenance.
Let's delve into the schedule for this meaningful endeavor, Monday to Friday:
– Breakfast
– Depart for the food shop, ready to contribute to the preparation of meals, work in the kitchen, maintain cleanliness in the area, and assist with serving, among other tasks.
– Enjoy lunch at the food shop, savoring the camaraderie and collective effort that goes into nourishing the community.
– Return to the accommodation, where you'll have some free time during the afternoon to recharge and engage in personal activities.
– Dinner, a time to reflect on the day's accomplishments and bond with fellow participants.
During periods or holidays when the NGO facility is closed, the program will be relocated. Participants will prepare meals at our accommodation kitchen, which will then be distributed at a local hospital to benefit patients and local workers.
Please be aware that the schedule outlined above is subject to changes and adjustments based on weather conditions, local circumstances, and unforeseen events. Flexibility and adaptability are integral to ensuring a seamless and impactful experience for all involved.
Join us in this noble endeavor as we come together to alleviate hunger, promote well-being, and make a lasting difference in the lives of those in need. Your contribution will be a beacon of hope, fostering a brighter future for our community.
Working with Disabled Children
Make a meaningful difference by assisting in the compassionate care of special children facing mental and physical disabilities at the local hospital in our city.
Working alongside dedicated local staff, you will play an integral role in providing care and support to these children. Your tasks will include feeding them, offering comfort, engaging in playful games, and promoting social interaction. Through your involvement, you can contribute to fostering their sense of dignity, independence, and active participation within the community.
Within this childcare home, approximately 20-25 Vietnamese children with diverse disabilities receive daily care. Your primary responsibility as a participant will revolve around nurturing and attending to these children. This may involve providing comfort, engaging in games, and fostering social connections. Prior experience in this field is beneficial but not mandatory, as your commitment and genuine care will make a significant impact.
Enhancing the quality of life for these children centers around improving their speech and muscular capacity. Daily routines are designed to support their development, and you will have the opportunity to actively contribute to their progress.
The children also derive immense joy from activities such as games, dancing, singing, and creative endeavors like painting and art. The hospital encourages and embraces these outlets as they promote holistic well-being for the children.
Let's explore the schedule:
Monday:
During your first week, you will receive an introduction to the project and the dedicated staff. This will be an ideal time to discuss your upcoming role and responsibilities with the project manager. Additionally, you will have the opportunity to meet and familiarize yourself with the children, creating a foundation for your engagement.
Tuesday to Friday:
You will embark on your placement at the disabled children's home, where your specific responsibilities will align with the current needs of the facility. Engaging in games, supporting speech development, and assisting with posture are common activities during this placement.
Please note that there will be a substantial break for lunch, allowing for rest and rejuvenation.
As with any schedule, adjustments may be necessary to accommodate weather conditions, local factors, and unforeseen circumstances. Flexibility and adaptability are essential for an optimal experience.
Your participation in this program holds the power to positively impact the lives of these special children. By offering your care, compassion, and support, you can help create a nurturing environment that empowers them to thrive. Together, let's forge a path toward a more inclusive and compassionate society.
Program
Prices
1 Week: 555 Euro
2 Weeks: 685 Euro
3 Weeks: 875 Euro
4 Weeks: 1065 Euro
+1 Week: 235 Euro
* The Culture Week has an extra fee of 45 Euro
With us there are NO registration or administration fees!
Plus you can easily combine the different projects.
What's included:
Volunteer program
Accommodation
Meals
24/7 in-country support
In-country program orientation
Pre-departure support
Airport pick-up
Not included:
visa, flight, travel insurance, vaccinations, criminal background check, return trip to the airport, 5% international banking fee
Requirements to join:
– Participants need to be minimum 18 years old
– Participants under 16 need to join with a parent/guardian
– Participants aged 16 to 18 need to have parental consent
– Participants are required to provide a criminal background check (if unable to obtain a criminal background check, you can provide two character reference letters instead)
– Participants are required to have their own travel insurance
– You need to be able to speak and understand at least basic English
Testimonial
Sarah Snook
A testimonial from Sarah Snook the famous Hollywood actress who joined our volunteer program.