Volunteer with Lemur in
Madagascar
Join the volunteering experience with Lemurs in Madagascar in 2023 with Abroad Escape! Welcome to an incredible opportunity to help with the conservation and rescue efforts of the enchanting Lemur in the amazing island of Nosy-Be. This unique program at the Lemur sanctuary reserve invites volunteers to join a meaningful journey of conservation and connection with nature's wonders. 
Also check out our other projects in Madagascar that you can combine with this project, click here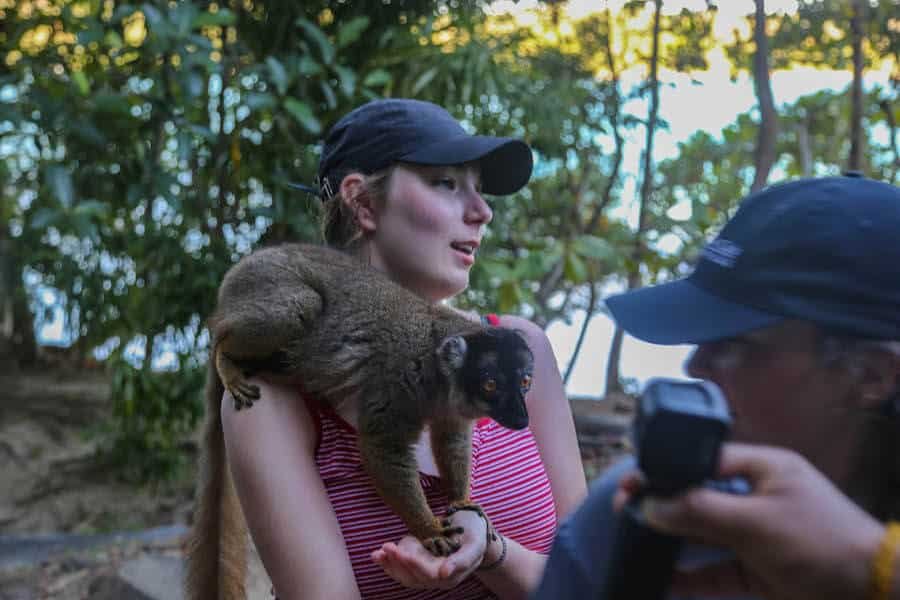 A Unique Volunteer Experience

 in Madagascar!
In this life-changing program, we invite passionate individuals who dream of working with lemurs and their fascinating companions in a nurturing and controlled environment. The sanctuary opens its doors, granting you the privilege to form a profound bond with the endearing lemurs and other incredible species that call this sanctuary their home – from graceful turtles to majestic crocodiles, from mesmerizing chameleons to other captivating reptiles dwelling here.
As a participant, you will embark on daily activities, immersing yourself in the realm of these marvelous creatures. Beyond the heartwarming interactions, you will also play a vital role in collecting essential data, contributing to a deeper understanding of these extraordinary beings and their habitat.
But that's not all! Our mission goes even further, encouraging you to explore and appreciate the rich natural flora surrounding the sanctuary. Your keen observations and findings will be invaluable as you contribute to an evolving inventory database, a testament to the remarkable impact you will make on this magnificent project.
Are you ready to embark on an adventure that blends passion, purpose, and preservation? Join us now in this extraordinary journey of conservation, where every moment you spend with these lemurs and their companions will fill your heart with inspiration and leave an indelible mark on the world we share. Together, let's create a legacy of love for nature and safeguard the wonders that make this planet so extraordinary!
Location: Nosy Be, Madagascar
Start Dates: Start every Monday
Duration: 1 week – 12 weeks
We are
Loved ♥️

by our Trusted Customers


I volunteered in with Abroad Escape, which was definitely the best trip and the best experience of my life!


The program was a great experience for me. The kids I taught were very smart and happy. They were very willing to learn which was amazing.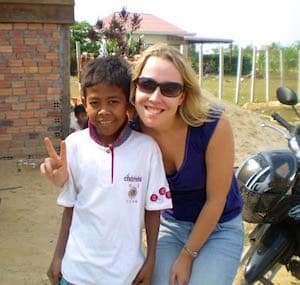 I had an amazing time in volunteering. I was happy with the whole experience and would love to go back in the future!
Your
Arrival
Get ready for a warm welcome to Madagascar! Your adventure begins the moment you arrive, with our airport pick-up on Sunday at Fascene Airport (NOS). To ensure a smooth transition, we'll provide you with all the necessary arrival and contact details when you book your program.The local team will be waiting for you, ready to transfer you to your accommodation where you'll meet fellow volunteers from around the world.
Your
Orientation
On Monday, our experienced coordinator will lead an exciting orientation session. This is your chance to get comfortable with your surroundings and dive into the local culture, while also receiving important health and safety advice.
During the orientation, you'll receive a comprehensive introduction to your program, accommodations, and the exciting projects that await. Plus, you'll learn all the do's and don'ts of local customs, giving you a head start on immersing yourself in the rich and vibrant culture of Madagascar.
Your
 Accommodation
Your accommodation is included in your package from Sunday night until Saturday morning of your last week, so you can rest assured that you'll have a comfortable place to call home throughout your journey.
The volunteer house is located in the suburbs of Hell-Ville in Nosy Be. You'll be staying in shared rooms with other volunteers, giving you the perfect opportunity to make lifelong friends from around the globe. You'll be accommodated in single-gender dorm-style rooms, ensuring maximum comfort and privacy.
You'll enjoy three delicious meals per day from Monday to Friday, and two meals per day on weekends. Plus, if you're a vegetarian, no problem! We can vegetarian meals for you.
Lemur Volunteer in Madagascar
Welcome to an extraordinary opportunity that invites you to be a driving force in the preservation of the wondrous lemurs and their treasured habitat, with a special focus on the enchanting Nosy-Be lemur population. If you possess a profound passion for ecological research and conservation, then this project awaits your eager participation!
As we unite in this noble cause, we must address the challenges that have led to the gradual decline of lemur populations in Madagascar, including rampant deforestation, the destruction of their natural homes, and the scourge of poaching. But fear not, for together, we shall make a difference!
Our conservation project in the idyllic setting of Nosy Be aims to restore the balance by nurturing the habitat, closely monitoring lemur populations, and creating impactful public awareness campaigns. This is where you come in – as an active participant in this sanctuary of knowledge and preservation. Immerse yourself in the company of these incredible creatures, gaining firsthand experiences that will forge an unbreakable bond between you and the diverse lemur species. While your daily duties encompass essential tasks like feeding and maintaining their sanctuary, a deeper purpose awaits.
Under the expert guidance of a subject matter expert, you will partake in essential data collection, contributing to a dynamic database that charts the ever-evolving lemur population. Each lemur will have a unique file, recording vital information such as age, sex, breeding patterns, behavior, distinguishing traits, and physical characteristics.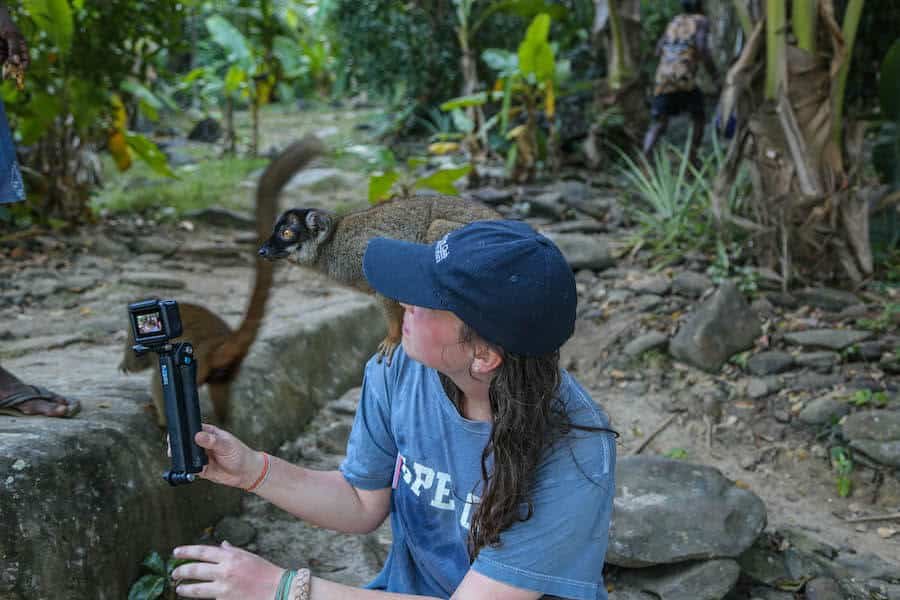 This invaluable knowledge will empower the park veterinarian to provide personalized care to each resident, ensuring their well-being and happiness. Moreover, your proficiency in English will enable you to enlighten sanctuary visitors, spreading awareness about these captivating lemurs and their vital role in our ecosystem.
And that's not all – together, we'll extend our reach beyond the sanctuary's borders, spearheading awareness campaigns that engage and educate the local community. By sharing the significance of protecting the lemur population and its precious habitat, we shall sow the seeds of lasting change.
Your journey of impact commences at 7:30 a.m. and concludes at 4:00 p.m., as each moment you dedicate to this cause becomes a stepping stone toward a brighter, more harmonious future. So seize this moment to contribute your passion and dedication to safeguarding these marvelous creatures and their home – for in doing so, you become an embodiment of hope and transformation for the world we share.
Embrace this remarkable opportunity as a participant, and witness the profound impact you can have on the conservation efforts of Nosy Be, as well as the well-being of the cherished lemurs living in a nurturing environment. Your contribution is a pivotal force in preserving this precious ecosystem and its extraordinary inhabitants. Before embarking on your volunteering journey, let us delve into the essence of your role, responsibilities, and the greatness that lies ahead.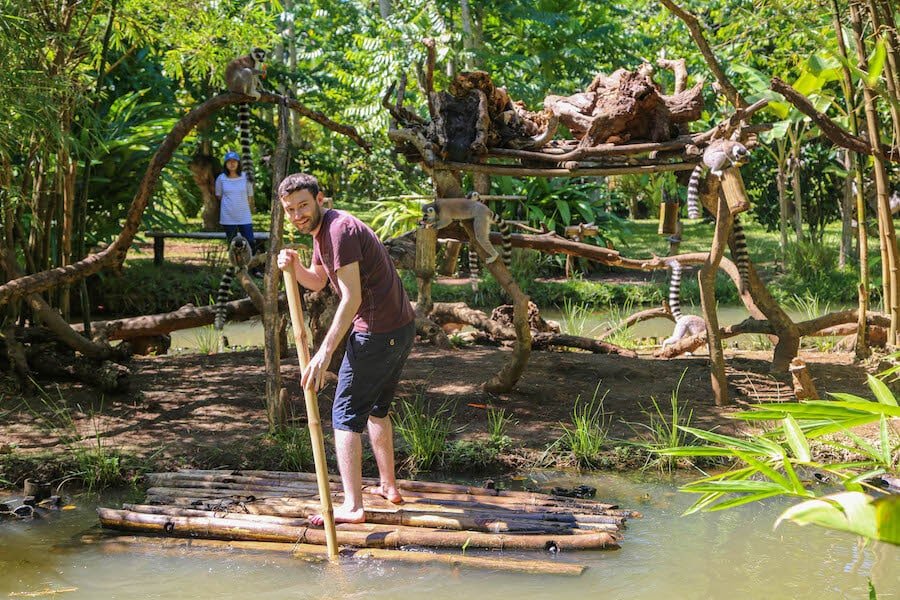 Your general duties encompass a tapestry of vital tasks:
Firstly, you shall play a crucial role in the food preparation and nurturing feeding sessions for our beloved lemurs. Your care will nurture their spirits and contribute to their thriving lives.
Next, with loving hands and dedicated hearts, you will assist in maintaining the pristine cleanliness of the areas where our cherished lemurs reside, ensuring they inhabit a sanctuary of tranquility and comfort.
But the significance of your presence goes beyond the enchanting lemurs alone. You shall also extend your loving care to other fascinating species that find their haven within our sanctuary. Your compassion knows no bounds as you embrace the welfare of all our treasured inhabitants.
And here, a journey of knowledge and exploration begins! Your keen observations and meticulous attention will lay the foundation for an invaluable database, capturing the essence of these beings. From age to sex, from breeding patterns to daily behaviors, and from unique identification markers to physical characteristics – every detail finds a cherished place in our evolving record.
But let us not forget the glorious flora that surrounds us! As you connect with the natural wonders that embrace us, you will play a pivotal role in nurturing and documenting their growth. Each entry in the flourishing database reflects your commitment to honoring every living entity in this harmonious ecosystem.
Moreover, your voice will resonate beyond the sanctuary's borders, as you engage with visitors from far and wide. In the universal language of English, you will share your insights, sparking inspiration and fostering an unbreakable bond between our visitors and the wonders they behold.
Prepare yourself for an unparalleled journey, where every detail is carefully crafted to ensure your experience surpasses all expectations. The heart of this program lies in our unwavering commitment to your comfort and support throughout your stay.
From the moment you set foot on this enchanting land, local staff members will be by your side, devoted to being your guiding stars. Their expertise and competence will become your beacon, illuminating every step of your adventure and lending a helping hand whenever you need it.
Rest easy, for we place your safety as our utmost priority. With our 24-hour emergency telephone number at your disposal, you are never alone – a member of our dedicated team will always be a call away, ready to swiftly respond in times of need.
Moreover, we have a special gift for your curious mind – a subject matter expert stands ready to unravel the captivating mysteries of the lemur world, unveiling the sanctuary's daily marvels. Their knowledge will awaken your passion for these enchanting creatures and deepen your connection with this precious habitat.
Welcome to a transformative adventure with clear aims and profound objectives that promise to enrich your life and ignite your passion for wildlife conservation. Prepare to embark on a journey like no other, where Madagascar's lemur-focused efforts shall become your gateway to priceless, hands-on experience.
Throughout this remarkable program, you will be granted a rare and intimate opportunity to interact closely with these enchanting species. As you delve into the heart of projects that house these remarkable creatures in captivity, you shall gain a deeper appreciation for their vital role in our ecosystem.
Your purpose here extends beyond personal growth, for you shall be a pillar of support for the local staff, lending your helping hand to enhance the conservation mindset within our global community. Together, we shall strengthen our commitment to safeguarding wildlife, leaving an indelible mark on the world we share.
In the pursuit of knowledge and understanding, you will contribute to the creation of a scientific database, a treasure trove of information on each lemur from various families residing in our program locations. This precious knowledge will empower the organization sustaining these projects to cater to the unique needs of every species member, ensuring their well-being and happiness.
But our mission doesn't stop there – we embark on a journey of exploration and discovery, creating an inventory of the diverse flora and fauna that grace these projects. As we document the wonders of nature, we sow the seeds of admiration and respect for our environment, nurturing a sense of responsibility towards wildlife conservation.
Schedule
Let us unveil the schedule that will shape your experience, fostering connections with the remarkable lemurs of Nosy Be and embracing the vibrant Malagasy culture.
Monday dawns with an enriching start, as after breakfast, you delve into team introductions, essential project insights, and center orientation. Familiarize yourself with our code of conduct, child protection policy, and media consent guidelines. And what's more, a captivating presentation awaits, unveiling the soul of Nosy Be's culture, followed by a basic Malagasy lesson, empowering you to connect on a deeper level with the locals.
After lunch, embark on a journey to Hell-Ville, where you shall access banking services, exchange currencies, and secure mobile phone connections, ensuring you're well-prepared for your transformative journey ahead.
From Tuesday to Friday, the rhythm of adventure and conservation commences at 7:30 each morning, embracing you in a symphony of captivating experiences until 4:00 in the afternoon. Your daily routine unfolds like a tapestry of cherished moments, as you join hands with us in nurturing and safeguarding these extraordinary beings.
Tuesday's journey begins after breakfast, leading you to the project site, where a wondrous world of diverse species awaits. Under the guidance of our subject matter expert, you'll assist in feeding the lemurs, gaining insights into their diet, and understanding the flora and fauna of this magical realm. As you immerse yourself in this invaluable data, you'll contribute to an ever-evolving database, capturing every facet of these mesmerizing creatures.
Wednesday heralds another day of profound purpose. With the sun's first rays, you venture to the project site, assisting the staff in feeding and maintaining the facilities. But that's not all – your unique talents and interests shall shine as you embark on specialized research, enriching our program and expanding its horizons.
Thursday echoes with dedication as you return to the project site, continuing your support for the staff while contributing to the dynamic database. Your passion and expertise take center stage, empowering you to shape the program's future in your areas of interest.
Friday, the week's crescendo, unfolds with renewed vigor, as you resume your compassionate duties at the project site. Every moment spent with these cherished beings becomes a step towards their thriving future. And as the sun sets, a meeting with our subject-matter expert awaits, a platform for sharing experiences, learnings, feedback, and the profound impact we've made together.
* This schedule can be changed and/or amended depending on weather conditions, local conditions and unforeseen circumstances
Lemur Program
Prices
1 Week: 775 Euro
2 Weeks: 1135 Euro
3 Weeks: 1545 Euro
4 Weeks: 1955 Euro
+1 Week: 455 Euro
With us there are NO registration or administration fees!
Plus you can easily combine the different projects.
What's included:
Volunteer program
Accommodation
Meals
24/7 in-country support
In-country program orientation
Pre-departure support
Airport pick-up
Not included:
visa, flight, travel insurance, vaccinations, criminal background check, return trip to the airport, 5% international banking fee
Requirements to join:
– Participants need to be minimum 18 years old
– Participants under 16 need to join with a parent/guardian
– Participants aged 16 to 18 need to have parental consent
– Participants are required to provide a criminal background check (if unable to obtain a criminal background check, you can provide two character reference letters instead)
– Participants are required to have their own travel insurance
– You need to be able to speak and understand at least basic English